Applications

This large format automatic cutting system is developed to cut single - ply and few - ply materials independently, it adopts advanced control system, which is with high cutting speed, high precision, and strong stability. The system is easy to operate; it can cut some soft materials, such as carton fiber, glass fiber, PVC, ETFE, PTFE, HYPALON, oxford cloth, leather automatically with high speed (Without making sampling, drawing line and cutting dies).
Aviation, Automobile, Marine, Energy-Saving Wind Power, Leather, Sports, Membranes, Tents, and Garments industries.

Description

Large Format Cutting Tables and System
Certificate: ISO9001, CE certificate (European Security Certificate), etc.
Data standard, it can identify the international standard HPGL or DXF file formats, compatible with any CADs.
Variety of patents for head, control system, machine appearance, etc

SC high speed large format automatic cutting system is a single or low - ply, static table cutting system, designed to cut a wide variety of special materials and industrial fabric with high precision, speed, credibility and intelligence.

SC Series cutting system adopts advanced speed control strategies, with high speed, high accuracy, strong stability and other characteristics. It can cut a wide variety of industrial and textile fabric, to provide integrated CAD / CAM solutions to aviation, marine, automobile, inflatable, luggage & bags, garment, furniture, shoes & caps industries, to meet customers' individual cutting needs.

SC cutting system is easy to operate; it can cut carbon fiber, glass fiber, PVC, leather and other soft composite materials automatically with high speed, by inputting the patterns, without making sampling, drawing line and cutting dies. This system is equipped with five cutting tools, each can be changed quickly. With powerful automatic nesting system to reduce the space between patterns, improve the material utilization and save costs.

Tool
The system is equipped with variety of cutting tools and pens, which can be moved flexibly and quickly, and cut many materials in different industries; we will select the suitable configuration according to the customer's requirements。
Rotary knives (18mm, 28mm, 45mm, etc) Punching tools (5mm, 8mm, 12mm, etc)
Notch knife, tangent knife Pen holder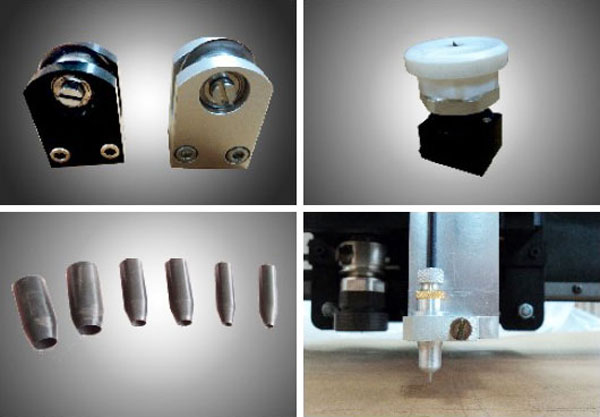 Function

Different knives configuration, it can fulfill various functions, such as cutting, punching, notching and marks.
The arbitrary origin positioning function
Fault detection and diagnosis
Pneumatic cutting, high speed, high precision
Sub - desktop absorption, strong vacuum, adsorbing power
Right light positioning function, it can preview the cutting area easily.

Features

High Speed: The cutting speed is fast without cutting cardboard sample, which can reduce manual operation, improve production efficiency greatly.
Precision: Incomparable cutting quality, high repeatability and cutting precision
Large Format: The Maximum effective cutting width is 5 meters, which can reduce manual operation, improve production efficiency greatly.

(1) Incomparable cutting speed, high repeatability and cutting precision.
(2) Powerful nesting system can save material greatly to enhance the production efficiency.
(3) Five cutting Tools (Pen, Rotary knife, Tangent knife, Punching knife and Notch knife), can fulfill to cut different materials by adjusting the knives quickly.
(4) Flexible adsorption functions by adsorbing different areas to improve the vacuum adsorbing ability.
(5) Powerful flexible cutting heads can cut different materials to ensure the cutting precision, and meet the customers' special requirements.
(6) This equipment is easy to operate, more humanized and intelligent.
(7) Powerful SmartCutAutoPlot can compete with most CADs.
(8) SmartCutAutoPlot has the function of automatically recognize the pattern, cutting path optimization, specified the cutting tools, and set the cutting length, and over - cut, to support the cutting machine to achieve the best cutting result.

Design / Marking / Cutting

Design

Computer – aided design, it can make 2D or 3D patterns with different tools.
Can import and export all CAD formats, such as DXF, PLT files.
Can convert the data with our convert program, import and export marker sheet data.
Edit the patterns again (Create, modify, attribute, merger, divide, optimize, parameter definition and so on).

Marking

Definite cutting width of marker, patterns specification and Qty.
Set gap, margin space and blinding of patterns.
Set the color difference and nap.
Create the specification sheet and batch nesting according to customers.
Finish all steps, click auto marking button to finish marking.
Our auto marking system is leading online nesting system, saves material greatly and enhances the marking efficiency.

Cutting

Import our marker sheet, and output directly.
Modify the parameters of control system according to material types and thickness.
Flexible and simple control panel, it can do debugging, previewing and complete the manual or automatic cutting.
Wearing Spare Parts


| | | |
| --- | --- | --- |
| Pictures | Item | Price |
| | 28mm Rotary knife (Japan OLFA) | $4 / pc |
| | Tangent Knife (Japan OLFA) | $1 / pc |