5 pcs 45° blades for Mimaki cutting plotter Vinyl Cutter, suitable for all kinds of industrial cutting materials, such as flocks, masking tape, reflective materials, vinyl etc.
5pcs in one plastic box, best quality reasonable price

Cutting plotter applicable: Mimaki
Especially for normal fronts, and materials which within 100, e. g. vinyl for traffic sign, flocks, etc.

To be used with: Mimaki CG-50, CG-60EX, CG-60SR, CG-60SRIII, CG-60ST, CG-75FX, CG-75FXII, CG-90SD, CG-100EX, CG-100LX, CG-100SD, CG-100SRII, CG-100SRIII, CG-130EX, CG-130FX, CG-130FXII, CG-130LX, CG-130SRIII, CG-160FX, CG-160FXII, CG-101, CG-45, CG-61, CG-100SD, CG-90AP.
Mimaki CF2-0912RC, CF2-0912RT, CF2-0912T, CF2-0912TD, CF2-0912TF, CF2-1215RC, CF2-1215RT, CF2-1215T, CF2-1215TD, CF2-1215TF, CF2-1218RT, CF2-1218T, CF2-1218TD, CF2-1218TF, CF2-0907RC, CF2-0907RT, CF2-0907T, CF2-0907TD, CF2-0907TF, CF3-1610R1, CF3-1610TF2, CF3-1631R1, CF3-1631TF2, CFS-1313, CFR-1220, CF-0907-2, CF-0912-2, CF-1215-2, CF-1218-2.
Mimaki CJV30-60, CJV30-60BS, CJV30-100, CJV30-100BS, CJV30-130, CJV30-130BS, CJV30-160, CJV30-160BS, TPC-1000.

Features:
Tungsten cemented carbide: Durable
High and new tech: Precise
Made in Cemented Carbide
High quality and Extra long life
Five blades in one box
Suitable for all Mimaki plotters
Blade size: 20mm (Length) x about 1.5mm (diameter)
Available angles for difference condition: 30, 45 and 60 degree
Knifepoint Offset 0.25 and 450-1500
Vinyl cutting blade, long life OEM Blades
Superior OEM blades for sharpness and durability
Superior cutting of the most intricate designs

LOWEST PRICES - High quality blades are manufactured from China, solid carbide stock utilizing computer controlled CNC machines for precision and cutting accuracy.
P. S.: The difference between 30, 45 and 60 degree are showed as below: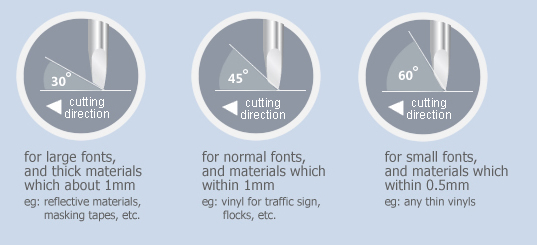 The above information is for reference only, will be affect by the difference brands of material suppliers, and the rough of the blades, please note.
3A (AAA) Series:
•This series bits are the most advanced tool at present, which was put out on May, 1st, 2009. Its materials are the best ones comparing with previous materials.
•Its abrasion resistance and break resistance are largely improved.
•As for the process technique, AAA series is more professional.