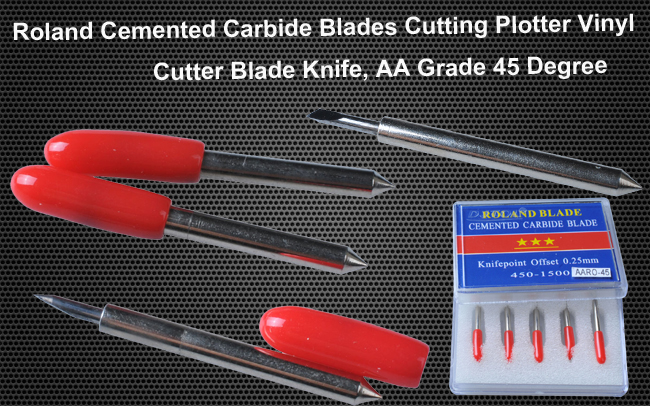 Description:
Roland OEM blades are designed to replace your original blade for your roland vinyl cutter. The 45 degree blades are meant for lighter vinyl or standard vinyl cutting. When your blade wears out, keep these replacement blades nearby so that you don't lose time during job production. These blades are meant for cutting heat transfer and sign vinyl materials. Pair this with our roland blade holder to keep blades in place and adjust depth for varying vinyls.
The 45 degree blades are good general purpose blades that do a very good job cutting both large and small letters/shapes in vinyl. There are 5 pcs in 1 pack.



• Made from cemented carbide, carbide is a very hard wearing metal which will last a long time for all your cutting needs.
• Made by computer controlled CNC machines.
• The speed of carving is extremely quick.
• Blades are 45 degree for standard cutting.
• Use as replacement blades when original wears out.
• Easy to install.
• Cuts sign and heat transfer materials.



• High quality and extra long life OEM blades.
• Computer controlled CNC machines ensure precision and cutting accuracy.
• The sharp blades are necessary ensuring the unbroken materials due to extremely quick carving speed.


Compatible with the following cutters: Our CPM-LD, CPM-FS-C, CPM-CUTOK, CPM-RS Series vinyl cutters, Liyu, Redsail, Lidar, Jiachen and many more cutters on market.
It can be used with Roland GX24, GX300, GX400, GX500, GX640, SP-540, SP-540I, SP-540V, SP-300, SP-300I, SP-300V, VP-300, VP-300I, VP-300V, VP-540, VP-540V, VP-540I vinyl cutters.



• Excellent for cutting vinyl, photo - stencil films & other thin films, etc.
• Superior cutting of the most intricate designs.



•Material: Extra accuracy and high density tungsten cemented carbide
•Blade size: 23mm±1mm
•Diameter: 2mm
•Knifepoint offset: 0.25mm and 450-1500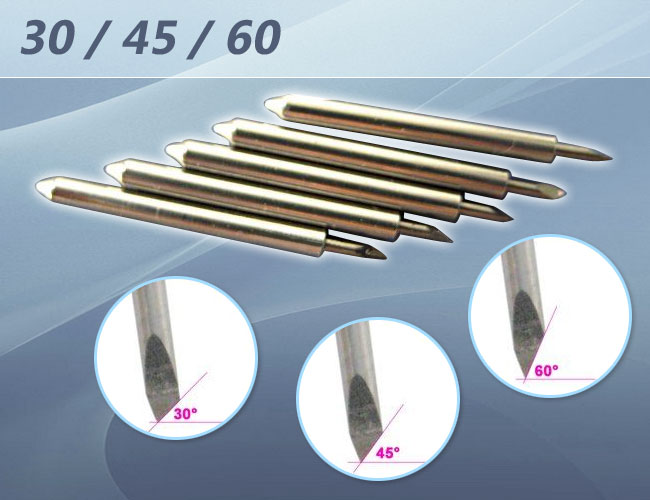 Note:
From the technical level, using a 60 degree blade on everyday cutting is a waste, less of the blade's cutting area is used, and blade life is wasted. The more horizontal cutting orientation of the 45 degree blade accurately distributes the cutting task over a larger blade area, and thus last longer. So use a 45 degree blade always, unless a 60 degree blade is needed for thick or more custom types of cutting, if 45 degrees blades are not available.