Applications
CS-DCZ503020 series sample making machine makes cutting, creasing, drawing available, stable, high speed, high accuracy. It could meet sample making or small production require of packaging company, corrugated box manufacturer, color box manufacturer, color printing manufacturer, die cutting manufacturer. It could cut corrugated board, chipboard, foam board, plastic board, thin wood board, leather, cloth etc. We are great reputed by customers from packaging, advertisement, printing, die cutting, electron, gasket, sign industries.

The machine head, with its collection of tool inserts, provides excellent functionality for a wide variety of materials ranging from paper, pressure sensitive film or vinyl to cartons, textiles, plastics, corrugated, foam board, aluminum and more.

Characters
Many Practical Functions are added to CS-DCZ50 series cutting machine, such as safety guard system, drag knife tool.
◆
Four tools include oscillating knife tool, drag knife tool, creasing tool, plotting pen.
◆
Carton and box can reach to perfect cutting performance
◆
Convenient half cut set to achieve perfect half cutting performance
◆
Safety guard system is equipped to avoid injury
◆
Brunt model sold well in EU and USA market
◆
The tables are styled to look good in the design studio, with strength suitable for the factory floor. Low, unobstructed sides ensure easy loading.
◆
An infra red beam safety system protects the user.
◆
Board is held in position on the table by powerful vacuum systems, whilst accurate registration is assisted by an inbuilt laser light system.
◆
For maximum power and accuracy, all motors driving the motion of the table are digital servos. Motion control is via a P.C. Controller.
Instruction of Machine Head
There are tooling options to cut and crease the widest range of sheet materials, from corrugated boards to varnish blankets, folding carton board to display board.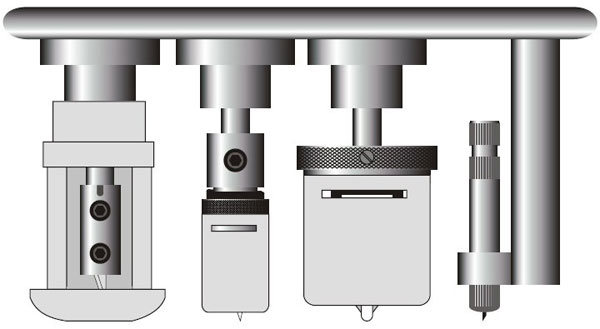 If you want to know more information about cutting tool, you can download the file of "Introduction of the head and cutting tools".


The tool head has 4 tool holders: a pen, a creasing wheel, an oscillating knife, a drag knife + one holder for CCD camera (Option)

Tools Functions
• Drawing function: The pen can draw various high precision drawings.
• Folding function: It can fold corrugated paper, card paper and offset board into `a` relatively perfect folding line.
• Dotted line function: It is used to fold corrugated and grey card paper after cutting them in half, and to cut a dotted line.
• Location function: Precision location with a laser lamp
• Cutting function of oscillating tool: It is able to cut different materials such as corrugated paper, card paper, offset paper, grey board, compound materials, gasket, leather and textiles, etc.
• Heavy duty drag knife tool: The heavy duty drag knife extends the cutting application to cope with hard, thick materials, which are not available in oscillating cutting tool.
•
Contour cutting function (Option):
Customers could select video registration system as an option to cover different materials application.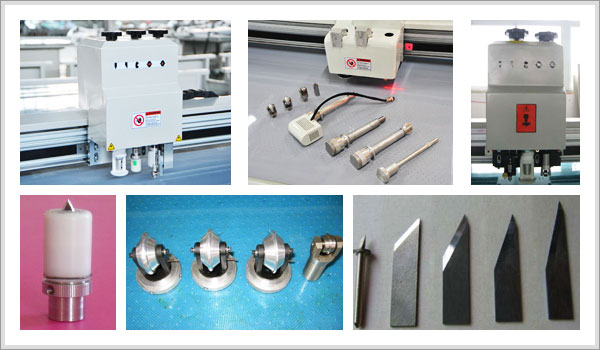 • Pressure wheel: Press fold line function, it can press perfect line in the corrugated paper, cardboard and grey board, etc.