. Super slim, thikness is 0.5" (12mm), double sides
. Made of clear acrylic, for delicate outer apperance.
. Energy saving, adopting LED light is 75% power saving compared with traditional lightbox.
. LED lighting, mild and soft which is comfortable for eyes.
. Long life-span, can reach 30,000hrs, and make sure the light attenuation would be less than 10% in the first 8,000hrs.
. CE and UL certificate.
Description:
This light box with double sides has elaborate design, suitable brightness and is super slim. It's made of clear acrylic for delicate outer appearance.
This crystal light box adopts LED lighting which is soft and mild, brightness is very equal, which is very comfortable for eyes. It can be wall-mounted, ceiling hung or placed on a countertop for versatility.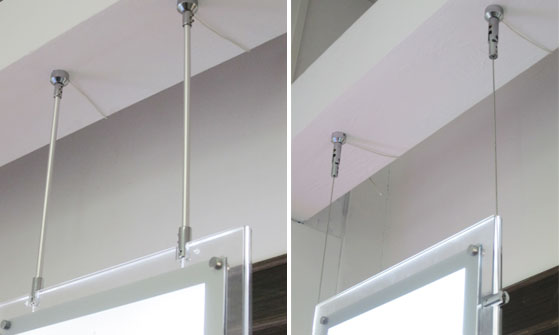 Hanging type

Remarks:
The overall Image size needs to be larger than the viewing size, In order to have a perfect fit and a great view of the image. That goes for all A1-A4 models.

Application:
It's widely used in super market, restaurant, hotel, building wall, school, etc.