. Extremely thin, only 0.3" (8mm) thick aluminum frame.
. "Snap-open" aluminum frames make graphic changes easy.
. Energy saving, LED light saves more than 75% power compared with traditional light boxes.
. Mild and soft LED lighting, which is comfortable for eyes
. Long life-span, can reach up to 30,000hrs, the light attenuation would be less than 10% in the first 8,000hrs
. High-quality even lit guide plate distributes light evenly.
. Can be placed ceiling hung or wall-mounted for versatility.
. CE & UL certificated.

Description:
Aluminum frame super Slim Light Box with 1.3" (33.5mm), aluminum frame with LED lighting which is power saving and comfortable for eyes. Its elaborate and slim design is only 0.3" (8mm) thick and can be used in super markets, chain stores, shopping malls, hotes, restaurants, building walls, etc.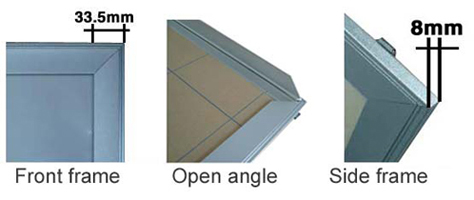 Highlights:
This Super Slim Light Box is made of superior aluminum which is clean, durable and has exquisite outer frame. It is slimmer only 0.3" (8mm) and a frame width of 1.3" (33.5mm) to make the whole product stable and durable.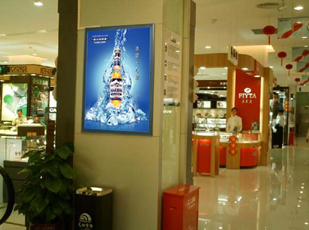 Remarks:
The overall printed image size needs to be larger than the viewing size, in order to have a perfect fit and a great view of the image. This applies to all A1-A4 models.