The Products in US Stock Only Free Shipping to USA.
Canada and Mexico Customers need to pay the extra delivery charges, Please contact our customer service in advance.
Customers in Other Countries Please Click Here to Order:
CALCA 48pcs 16oz Sublimation Blank Clear Glass Mugs Coke Can Shaped Glass Cups with Bamboo Lid and Glass Straw

US Stock, CALCA 48pcs 16oz Sublimation Blank Clear Glass Mugs Coke Can Shaped Glass Cups with Bamboo Lid and Glass Straw
Large capacity of 16oz/450 ml. Enjoy beer, delicious juice or refreshing coffee every day.
Clear glass mugs are classic and sturdy, made from transparent glass prepared for sublimation printing. The transparency of the material will give any colored design a subtle effect that can change depending on what liquid is inside the stein. Restaurants, bars and private parties can all benefit from custom beer steins!
Glass Sublimation Tumblers - Comes with quality sublimation coating is ready to decorate the tumblers according to your preference, the slim and straight body is easy to make the full wrap sublimation print by tumbler heat press machine or sublimation oven, the print color come out bright not fading.

Specifications:
Clear glass beer steins coated for sublimation printing
Brand: CALCA
Material: Clear glass, with bamboo lid and glass straw, no handle
Capacity: 16oz. (450 ml)
Mug Size: H 5.3in (13.5cm), Φ 2.95in (7.5cm)
Bamboo Lid Size: Φ2.6in (6.5cm)
For use with a mug press
Finish: Gloss
Print Applications: Dye-Sublimation
Package: 48pcs/carton
Packing Size: 17.3in x 12.6in x 18.5in (440mm x 320mm x 470mm)
Gross Weight: 33lbs (15kgs)

Package Includes:
1 Glass Bottle
1 Bamboo Lid
1 Glass Straw

Usages:
Note: For best results we highly recommend pre pressing the mug for 10-15 seconds.
Temperature and time settings are only a guide, please test in your press machine for accurate time and temperature.
Use a Mug Press
Referential Press Temprature: 356°F (180℃)
Time: 80 Seconds
Pressure: Medium/Firm
Attach sublimation transfer paper with image printed in reverse to the stein with thermal tape.
Place beer stein in press at the press temperature, and close the element around the stein.
Press for the specified time above needed using specified pressure.
If the image begins to look blurry, or burnt brown by over-pressing, decrease time by 15 - 30 seconds.
Once done, remove the stein from the press and remove the transfer paper immediately.
Allow the stein to cool completely before use.

Warm Tips:
1. Please allow 1-3mm tolerance due to manual measurement.
2. In order to make the glass mug cleaner, please avoid using blurry or out of focus image, the photo should be over 2000 pixels as much as possible.
3. The color may exist slight difference due to different screen display.
4. If the sublimation paper is slow-drying and the ink is not dry before printing, or the sublimation paper is damp, the print will be blurry.
5. The uneven rotation temperature of the household oven will affect the transfer effect.
6. It must be wrapped tightly with tape before transfer, and the shrink film will be sucked tightly, so there will be no problem.

Applications: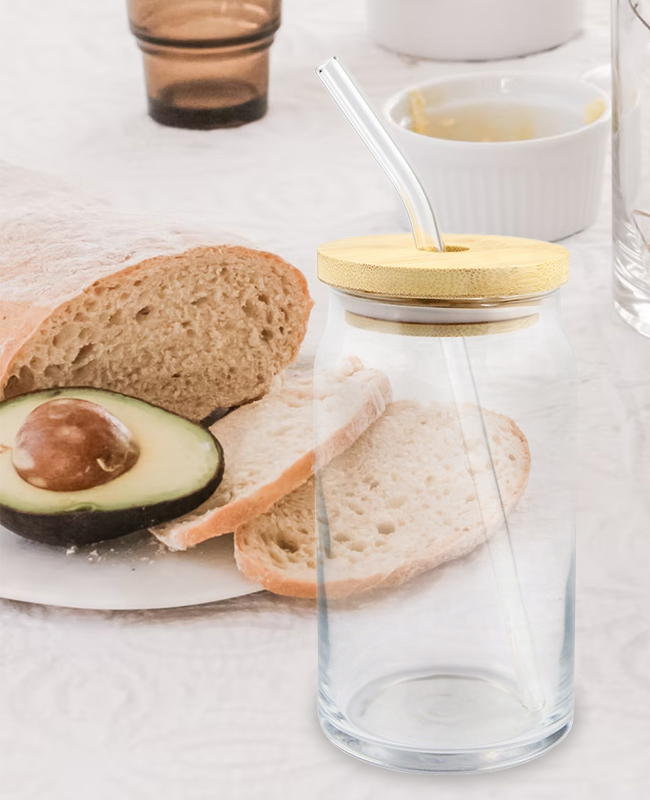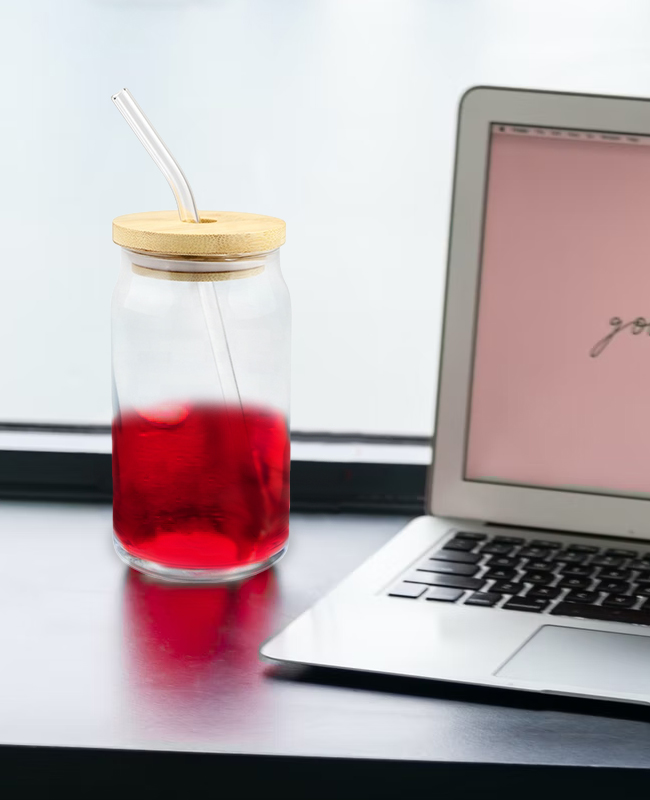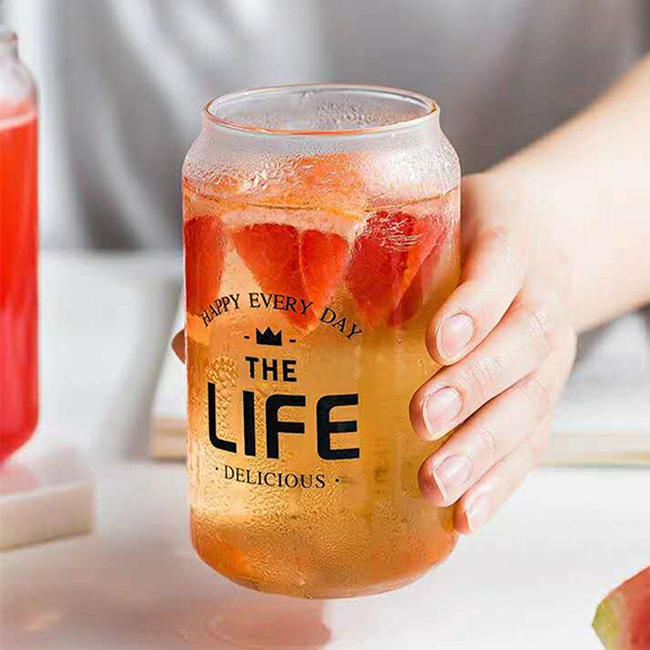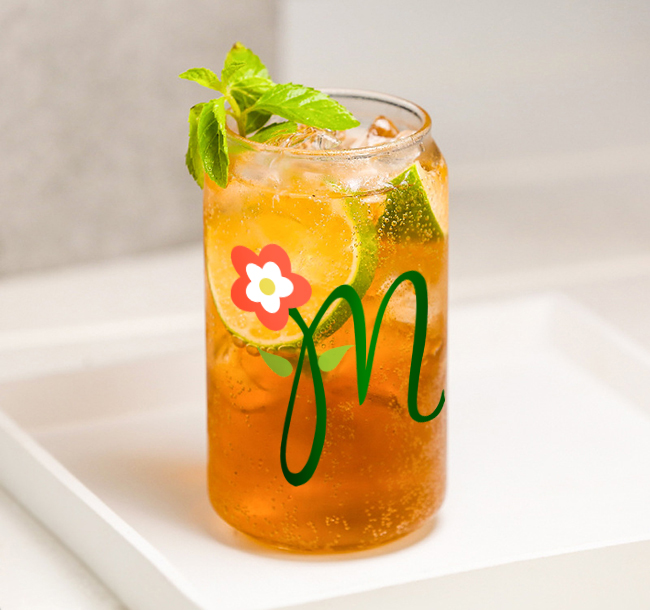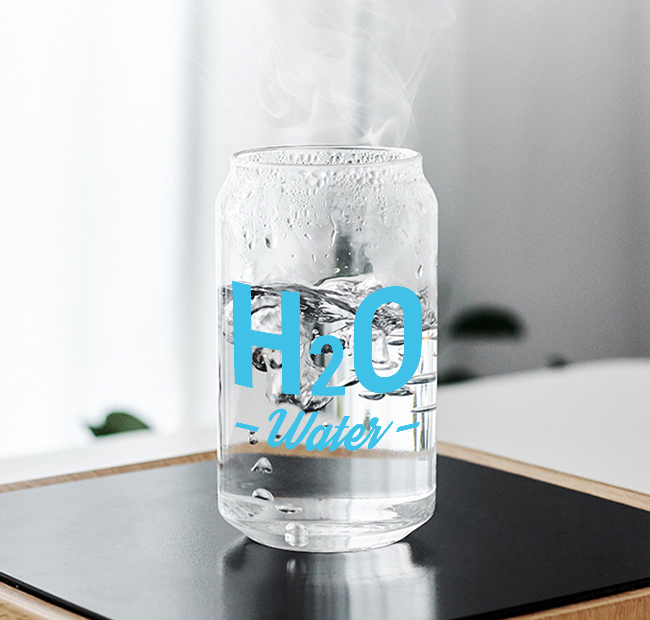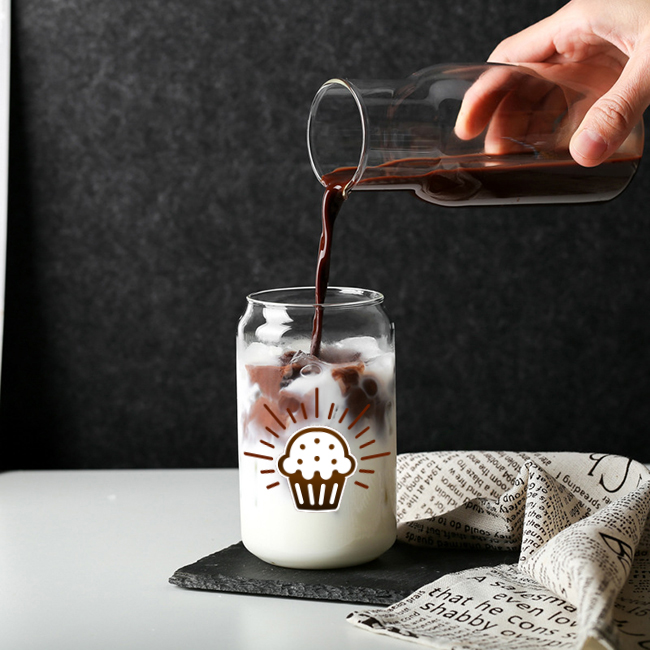 Features:
BPA-Free & LEAD-FREE Glass Material - Made of food grade glass, healthy for your life when you enjoy your drinking. With 16oz large capacity, AGH mason jar is a perfect to match your favorite cold drinks: juice, lemonade, fruit infused water, iced tea, iced coffee, punch, sangria, and more.
Portable Travel Size - You can easily hold it with one hand, perfect for smaller hands or if you have arthritis. Besides, comes with splash-proof lid make the perfect on the go tumbler! Great for gatherings, parties, barbecues. A must-have for home, office, restaurants, bars, pools.
Nice Looking - Crystal clear glass straight skinny tumblers perfectly reflects your tastiest Beverage - perfect for cold drinks in summer. Ideal for entertaining and gifting, such as Birthday, Anniversary or Father's Day.