US Stock, Heavy Duty 8 Color 8 Station Manual Screen Printing Press with Side Clamp and Micro Registration & 220V 8000W Conveyor Tunnel Dryer 7.2ft Long x 31.5" Wide Belt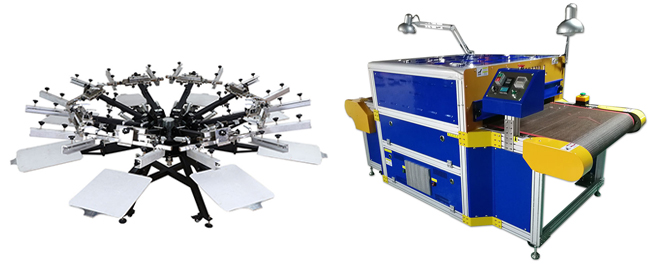 Heavy Duty 8 Color 8 Station Manual Screen Printing Press with Side Clamp and Micro Registratio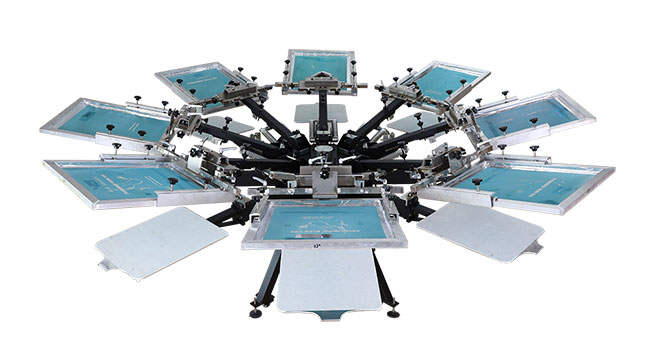 Specification:
Maximum Image Area: 450mm x 550mm (17.7in x 21.7in)
Maximum Frame Size: 600mm x 700mm (23.6in x 27.6in)
Standard Pallet Size: 450mm x 610mm (17.7in x 24in)
Printing Height: 10mm (0.39in)
Printing Surface: Flat
Automatic Grace: Manual
Color/Station: 8 color 8 station
Printing Color: 8 color
Printing Speed: 800pcs / hour
Machine Size: 3100mm x 3100mm x 885mm (122in x 122in x 34.8in)
Machine Weight: 430kg (946lbs)
Package: Wood box
Packing Size: 1540mm x 1540mm x 1330mm (61in x 61in x 52in), 3.154sqm
Gross Weight: 480kg (1056lbs)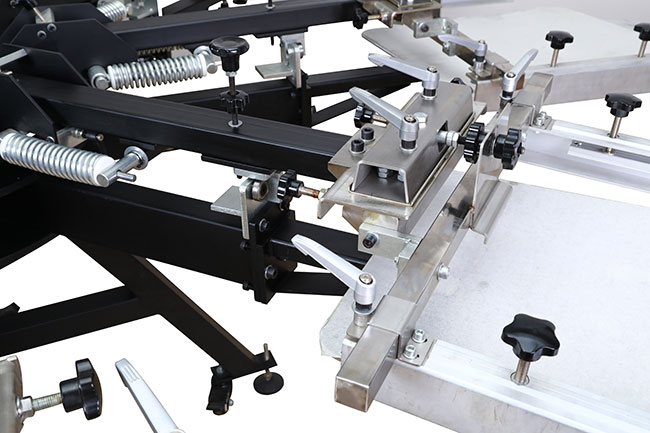 220V 8000W Conveyor Tunnel Dryer 7.2ft Long x 31.5" Wide Belt

Specification:
Total Length: 7.2' / 220cm
Total Width: 46.46" / 118cm
Belt width: 31.5" / 80cm
Belt to the ground height: 29" / 74cm
Enter /exit length: 23.6" / 60cm each
Oven chamber length: 39.37" / 100cm
Chamber height: 43.3" /110cm
Lamp: infrared carbon fiber lamp
Constant temperature range: 0-356℉ / 0-180 ℃
Heater wattage: 8 KW Ma
Power supply: 220V / 60Hz
2 Year Warranty on Heaters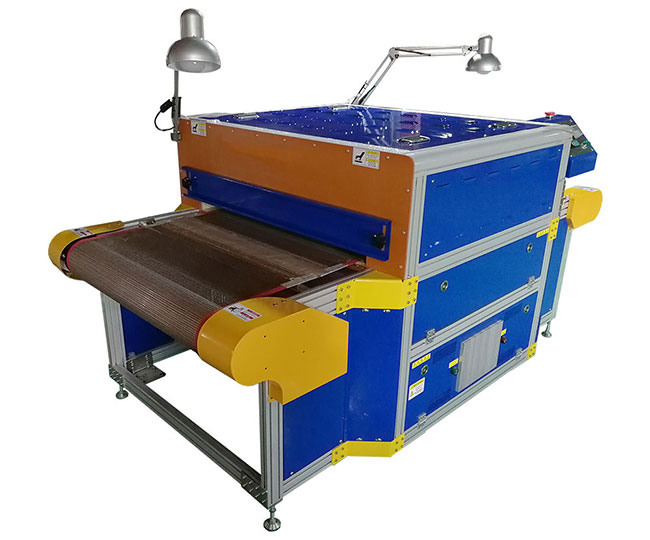 Feature:
1.Internal circulation of hot air:the specific operation of the internal circulation device of hot air is as follows: the air in a group of every meter is sucked from the lower part of the mesh belt, and then blown from the upper part to the lamp tube, the hot air flows downward to form the hot air circulation, so as to evenly heat the box and prevent heat accumulation.
2.The tunnel furnace, the whole machine aluminum alloy frame structure, easy installation and relocation, the machine 1 set of fan system, 1 set of temperature control system, 1 set of independent speed regulating device network belt.
3.This structure is the latest high efficiency and energy saving device, which can ensure the rapid dehydration and solidification of the cloth.The machine can run efficiently for a long time.The normal power consumption of the whole machine is about 2-3kw.
4.Automatic tube fault detection function: there is a lamp tube damage alarm prompt, you can know which lamp is damaged.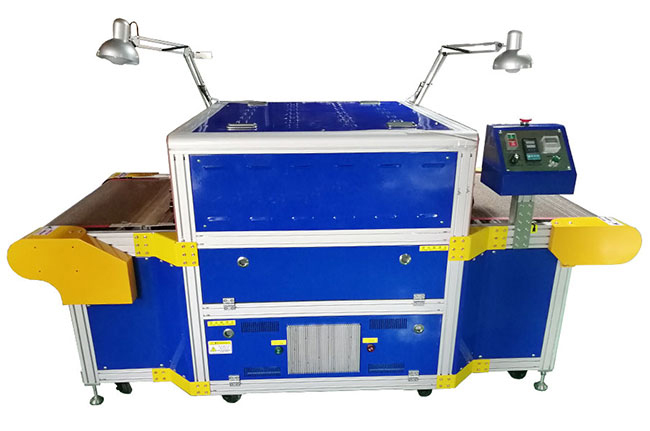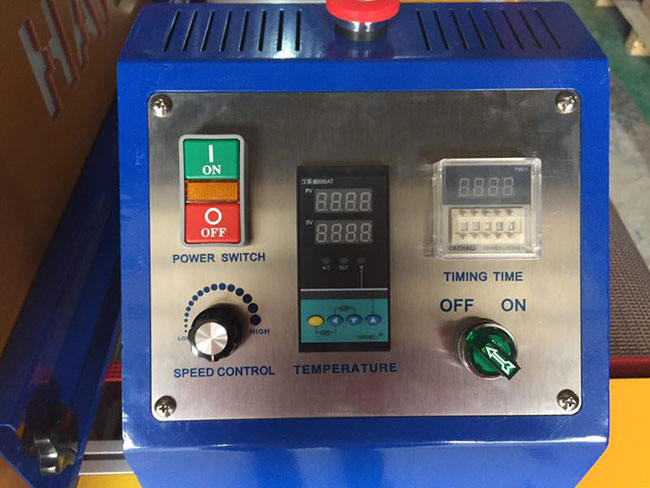 Applications:
Widely suitable for screen printing t-shirts, garments, towel, leather, umbrella, clothes and backpack, etc.
It suitable for printing with heating set ink, rubber cement and other printing inks.
This manual screen printing press makes is used for "shop", school, colleges and universities personalized use, a perfect fit for
entry level customer, who is looking for an affordable and professional screen printer for their t shirt printing projects. Change
different screen printing pallet, you can use this screen printing press to DIY, such as:
A. Custom logo or personalized graphics on T shirt.