Customers in Other Countries Please Click Here to Order:
/products/26832/59_x_118_1530_1000w_fiber_laser_cutting_machine.html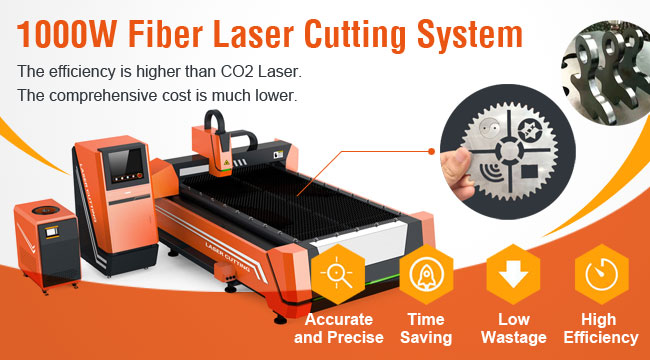 59 x 118" 1530 1000W Fiber Laser Cutting Machine for Metal
Laser Cutting Machine integrates optical, mechanical and electrical in one, which adopts laser technology, computer control technology and high-performance CNC laser power system to process all kinds of metal sheet at high speed, high accurate, high efficiently cutting. Its products have smooth edge, small kerfs width and little heat effect.
The efficiency of fiber laser is higher than CO2 Laser. The comprehensive cost is much lower. The transmission of the laser beam depends on the fiber without using mirrors. The Laser structure is small and compact with high reliability.
Applications: stainless steel, carbon steel, aluminum, titanium, and most non-ferrous metals. (Max Stainless 5mm/0.1969" - Max Carbon Steel 10mm/0.3937")
1000W Cutting Parameters
Materials
Thickness
Speed(m/min)
Air pressure(MPA)
Gas
Cutting height(mm)
Stainless steel
0.5
>24
1
N2
0.6
1
17~21
>1.1
N2
0.6
2
5.4~7.2
>1.5
N2
0.6
3
2.1~3
>2.0
N2
0.6
4
0.8~1.5
>2.0
N2
0.6
5
0.6~0.9
>2.0
N2
0.6
Carbon steel
1
15~18
1
O2
1
2
5.1~6
0.5~0.8
O2
1
3
3.5~4.2
0.25~0.4
O2
1
4
2.3~2.7
0.15~0.2
O2
1
5
1.7~2.1
0.15~0.2
O2
1
6
1.2~1.8
0.10~0.15
O2
1
8
0.9~1.1
0.10~0.15
O2
1
10
0.6~0.72
0.10~0.15
O2
1
Features:
Exhaust System
The system is equipped with section dust collector to improve the working environment. The area beneath the cutting table is divided into several sections. During the cutting process, only the ducts directly beneath the cutting head are open for fume extraction. The ducts in the other sections remain closed to improve dust/smoke collection.
1.By the middle centralized partition ventilation to make the wind strong and best effect of dust extraction.
2. Traditional ventilation is from the both sides and simple structure, resulting in weak wind, dust effect is poor.

Lathe Welding Structure
1.Ensure the stability and precision of the lathe for a long time.
Welding structure of lathe and cross beam can ensure the huge thrust uniformly. Dispersed into everywhere of lathe produced by the large inertia motor instantaneous acceleration and deceleration and greatly reduce lathe vibration.
2.Standard industrial lathe processing steps:
Integral welding forming rough machining →vibration aging semi finish. Machining finish machining.
3.The structural rigidity is in accordance with the standard of the industrial lathe and precision is high. The stress of welding and processing is completely eliminated.

Laser Cutting Head
1.Optimized optical configuration & smooth and efficient airflow design can save the loss of protection lens.
2.Rotary focus adjustment, easy to focus.
3.Adopt the drawer type mirror base, it is easy to assemble and disassemble.
4.In favor of high anti material cutting, and preventing thick metal bursting and sputtering.
5.The double water-cooling mechanism of the collimating lens and the focusing mirror, the cooling effect is good.

Independent capacitor regulator
1.Adopt the closed loop control method to control the laser cutting head, which is a high effect device for capacitor regulator.
2.Provide the independent Ethernet communication interface, which can easily realize many functions like automatic tracking, sectional perforation, progressive perforation, edge cutting, leapfrog elevation, flying optics compensation etc.
3.Quick follow-up controlling technology, travelling system of z axis controlled by industrial grade computer, z axis speed and precision is highly increased, it helps to process complicated work pieces.

Bochu Laser Cutting Control System
1.Control system main function: graphic processing, parameter setting, custom procedure editing, path programming, simulation and cutting processing control.
2.The same software in control system can be installed in other computers for editing and make outlook, so as to optimize the design graphic, up the working efficiency.

Remarks:
1.One year warranty for the whole machine; two years warranty for the RAYCUS laser generator.
2.Free training in our place, engineers are available to customer's place if customer would provide tickets, food & hotel and some fees for engineers.

Machine Details:
(1) Laser source
No
Brand
Origin
Power
Materials
1
IPG
Germany
1000W
Stainless steel, carbon steel etc.

(2) Laser cutting head

No
Brand
Quantity
Unit
Technology
Origin
1
Ray tools
1
PC
Sweden
China

(3) Machine bed

No
Type
Size
Quantity
Unit
Technology
1
Tube welding
3000*1500mm
1
Set
1.Thickness: 12mmx12mm/8mmX8mm
2.600 degree high temperature

(4) Transmission system

No
Name
Specification
Quantity
Unit
Origin
1
X axis rack gear
2 module
4
6 grade
Taiwan YYC
2
X axis guide
25mm
2
PC
Taiwan
3
X axis motor
1800W
1
Set
AC servo motor
Japanese
Yaskawa
4
X axis reducer
115,P0, flange
1
Set
France
5
Y axis race gear
2 module
10
PC
6 grade
Taiwan YYC
6
Y axis guide
35mm
2
PC
Taiwan
7
Y axis motor
Same with X
2
Sets
Dual driver
Japanese
Yaskawa
8
Y axis reducer
Same with X
2
PC
France
9
Z axis ball screw
20mm
2
PC
Taiwan TBI
10
Z axis guide
15mm
1
PC
Taiwan TBI
11
Z axis motor and driver
400W
1
PC
AC servo system
Japanese
Yaskawa

(5) Control system, pneumatic, optical components and cooling chiller

No
Name
Quantity
Unit
Origin
1
Control system
1
Set
CYPCUS
Shanghai Bochu
2
Increase
LASERCUT
Shanghai Bochu
3
Focus lens
φ40mm
1
PC
Min0.01mm
American II Lu optical
4
Chiller
Optical dual temperature dual control
XQL
5
Electric components
Schneider / Omron


6
Pneumatic vitality pieces
SMC

Detail Pictures: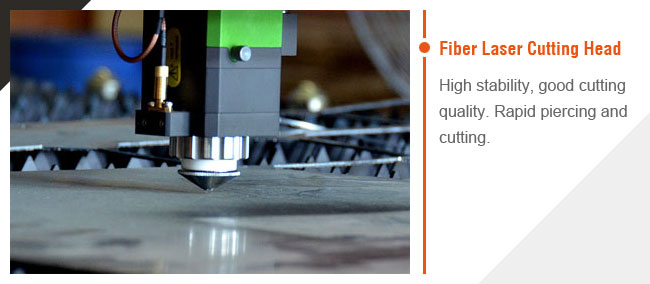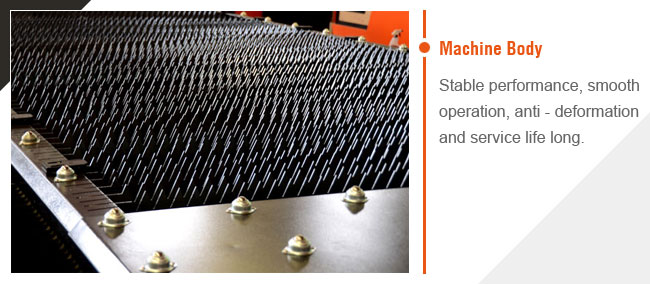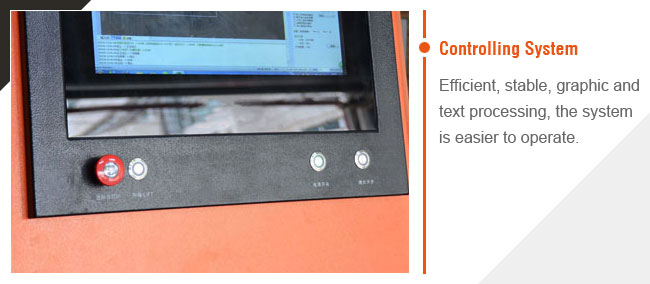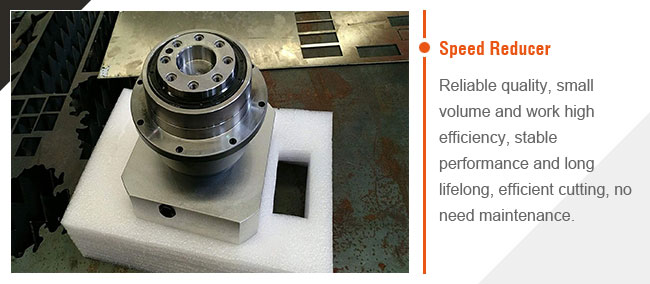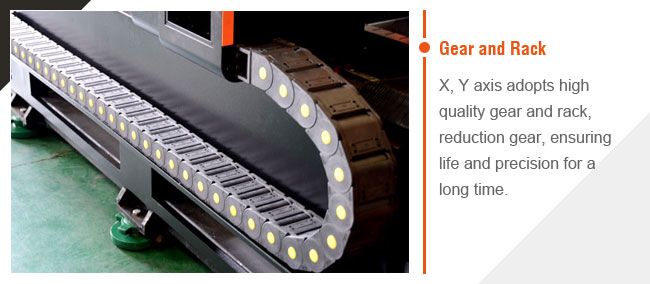 Samples: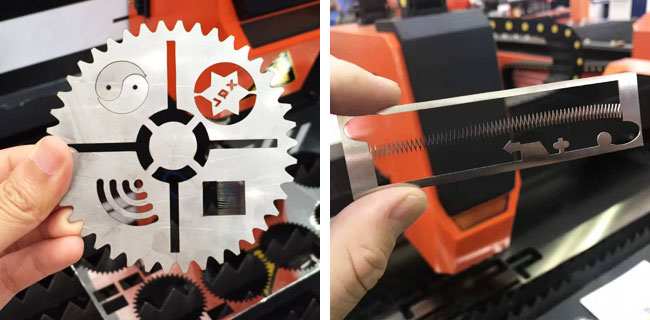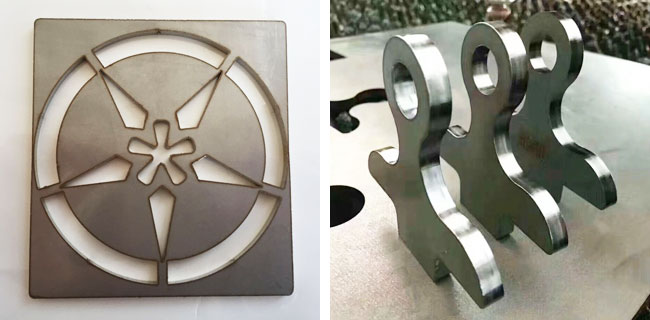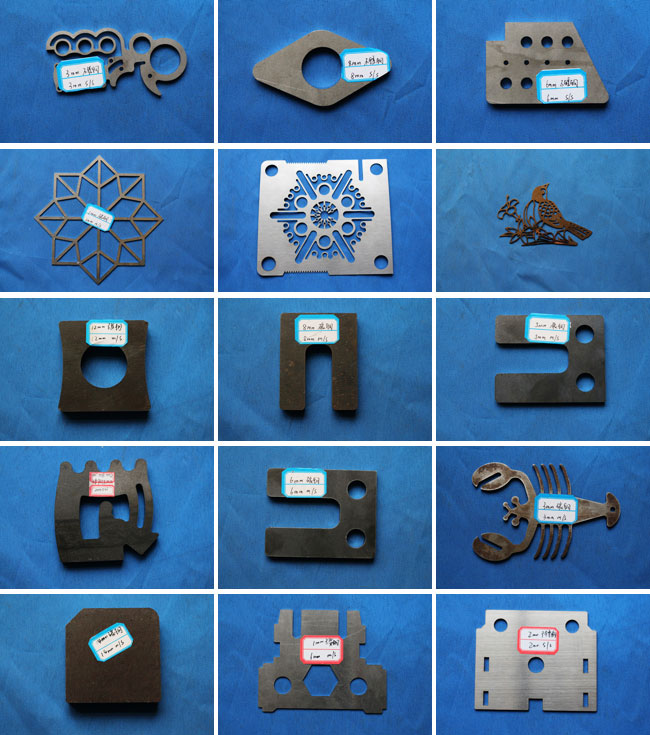 Process: