Two Stage Gas Ring Vacuum Pump High - Pressure Ring Blower, 5.5 KW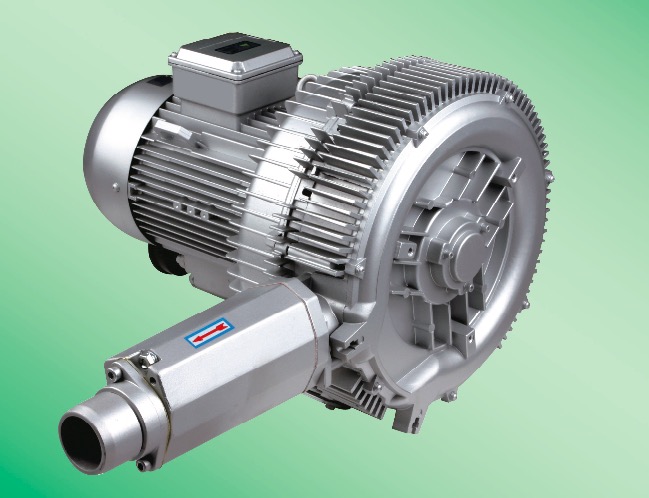 Feature:
Centrifugal circulation design, high pressure, big air volume. Air cushion design, lower noise. The aerodynamic torque is small, the working process of the stable and reliable. No oil circulation design, gas is more pure. Surface phosphating treatment, electrostatic spraying, colour and lustre is uniform, stronger adhesion. A wide scope of power configuration, product service life is long.

Operating Principle:
When the impeller of the high-pressure blower rotates, in consequence of the centrifugal force, the vane impels air to move forward and outward, resulting in foaming a series of spiral movements.

The air between impeller and blade accelerating rotates spirally and squeeze the outer air (which is inhaled by Inlet 1) into side channel.

After entering Side Channel 2, the air is compressed, returns to Impeller 3 and accelerating rotates again.

When the air goes through in spiral path impeller and side channel, all blades are compressed and accelerated; the kinetic energy of air is increased with the rotation, which increases the air pressure along side channel.

After the air reaches the connection point between side channel and emission flange (the side channel narrows down at the exit) , it is squeezed out by the blades and emitted out of the pump through Outlet 4.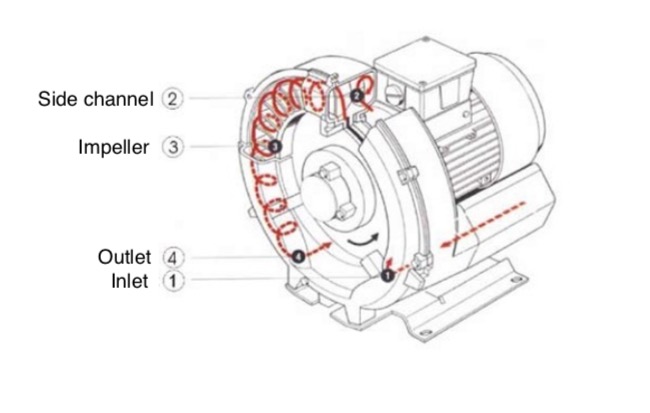 Application:
Suitable for Paper Cutter, cigarette filter forming machine, electric plating solution mixing, spray dryer, water heater, silk Screen Printing, photographic plate maker, injection molding machine, automatic feeding dryers, liquid filling machine, welding equipment, film, paper, shipping, dry cleaning, clean, dry air chen, bottle, gas transmission, feeding, collection, etc.

Process: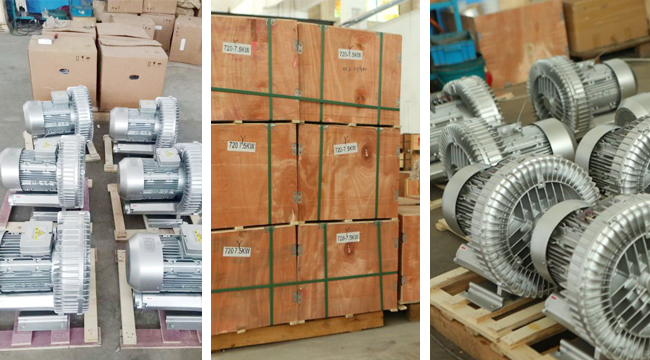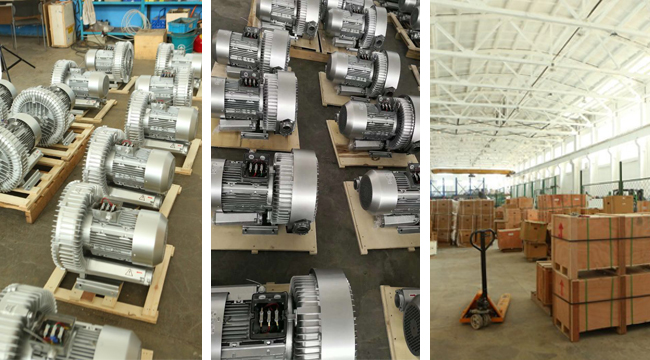 Packing List:
Packing Size: 60 x 50 x 45 cm
Gross Weight: 77.5 kg
Package: Wooden box