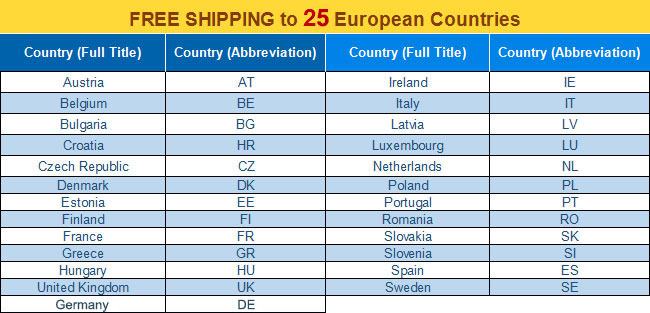 The Products in Belgium Stock Only Free Shipping to 25 European Countries.
Customers in Other Countries Please Click Here to Order:
/products/20230/anywells_awc708c_lite_laser_controller_system_for_co2_laser_cutting_engraving_system.html

Anywells AWC708C LITE laser controller system for CO2 laser cutting / engraving system Awc708C Lite: New Fresh Version Based On AWC608 and AWC608C!
AWC708C LITE Double Heads Laser controller system AWC708C LITE, AWC708LITE laser motion control system.
It is the latest research and development of a new generation of motion controller. The controller adopts the new CPU, faster and more stable.
AWC708C LITE is an independent DSP laser controller used for the laser cutting and engraving systems.
AWC708 Controller board with Aluminum case.

Specifications:

| | |
| --- | --- |
| Power Model | AWC 708C lite |
| Power supply | DC 24V,3A |
| Input | 6 roads |
| Output | 6 roads |
| Control axes | X YZU axis |
| Laser power | 0-100%,0.01% continuous adjustment |
| Accuracy | ±0.001mm |
| Laser Source Type | Various AC/DC Excitation and RF CO2 laser & Solid medium |
| Application | Laser cutting machine, Laser engraving machine, etc. |
| Environment | Operating temperature: (-10~40) C, Relative humidity: ≤90% |
| Certificates | CE, ROHS |
| Support format | DST. PLT. BMP. DXF. DWG. AI |
| Support software | Laser CAD (Plugin support CORELDRAW, AUTOCAD, Adobe 111- ustrator) |
Software Versions
It includes three versions: General Version (LaserCAD), CorelDraw based version, AutoCAD based version.
Operating System Environment Requirement
Support Windows 2000/Windows XP/Windows 7/Windows 8, etc. Support 64bit (driver installed separately)
In/Out Interface port: USB or networking
Real time power control: PWM and analog
Support Dump drive (no PC required) for up to 200 files
Cad system support: CorelDraw (v12~X6), Illustrator, and AutoCAD (2004 ~ 2008) direct output with VB plugin
Celeron 2.1G above
Suggest using 1G above memory.

The difference AWC708C, AWC608, AWC608C as below
AWC708C is upgrading from AWC608 and AWC608C, same wire connection and better.
AWC708C can show the photos from display directly, AWC608 can`t.
AWC708C LITE have some improvements as below
1.The controller adopts the new CPU, faster and more stable.
2. Equipped with a higher resolution image display, display intuitive, new dynamic track display, anchor point returns the humanized function such as pattern, make the machine in operation at the same time can be seamlessly switch machine, effectively improve the control precision machine, and ensure the safety of the machine, at the same time, retain the AWC608 series classic way of human-computer interface.

Details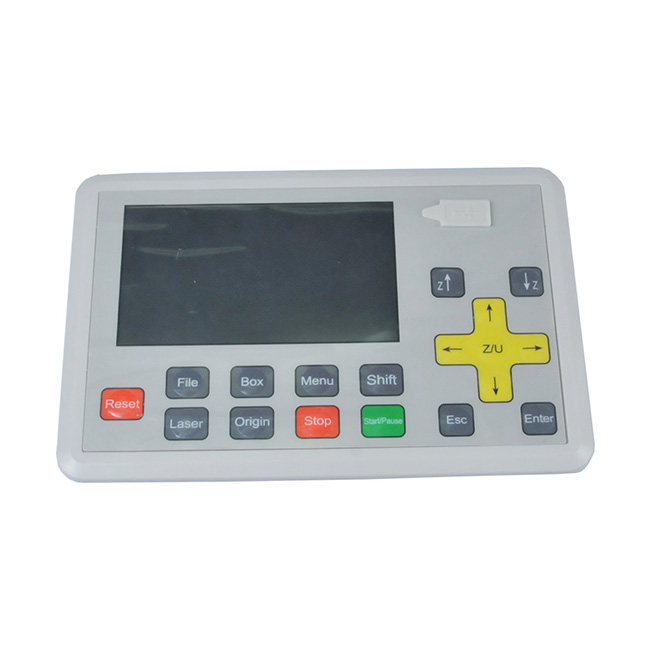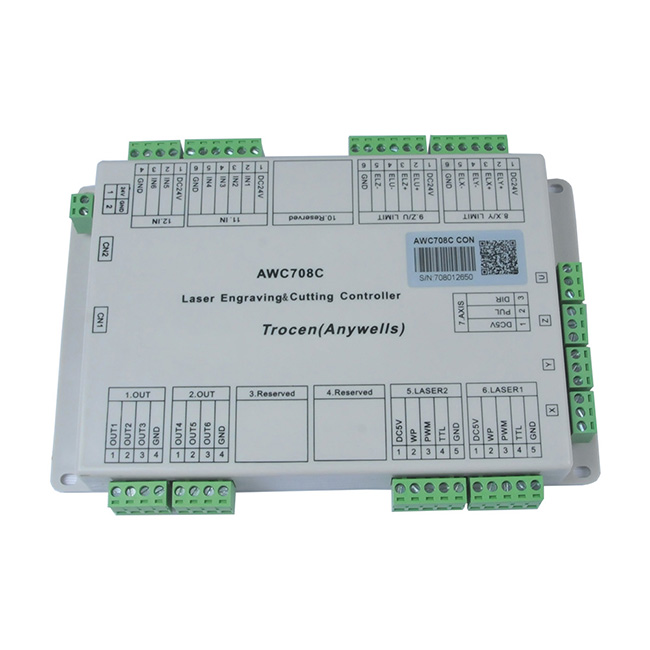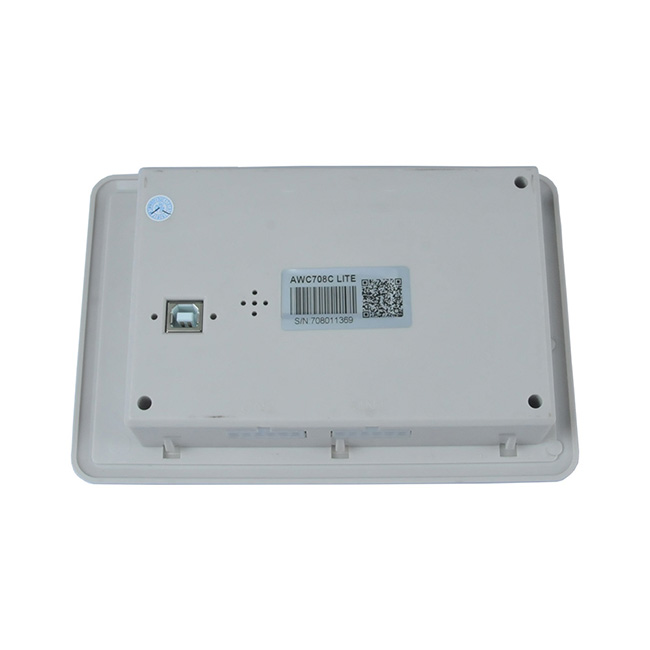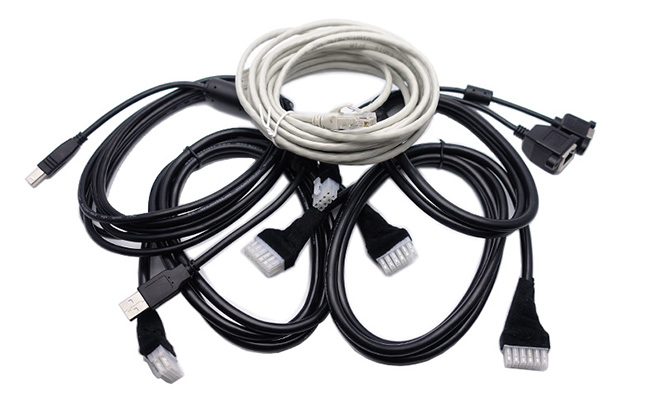 Main Features
1. The true color screen, display content more abundant;
2. Adopt new 32-bit high speed CPU; make the system run faster and more stable;
3. The system comes with the clock display, encryption function more perfect and humanity;
4. Support U disk offline files preview function, real-time display laser trajectory;
5. Can be completely separated from the PC Settings equipment parameters;
6. The whole light coupling is completely isolated outside electromagnetic interference, anti-static resistance is strong, make the system work more stable and reliable;
7. Support for perfect power carved function;
8. Support high speed interface, U disk read and write files more stable and can identify various brand of U disk;
9. Support network communication and USB communication, transmission speed faster, more stable;
10. Support the dual laser control, adjustable power alone, and can control various laser; Support double shift each cutting.

Applications
1.Old Laser Control System Upgrade:
Refresh your co2 laser cutter /co2 laser engraver from slow and old controller.
Match all settings in your co2 laser machine. Can 100% perfect work with all Co2 laser cutting system from China.
2.Co2 Laser Cutter Dsp Control System Maintenance and Replacement:
Broken old controller away and test a new high speed perfect cutting and engraving effects.
Don't need to wait a long term repair. Take a little time to restart your program.
3.DIY Laser CNC Cutter:Laser Cutter Controller, especially for homemade laser cutter, hobby DIY laser cutter and Portable
Laser Cutter. Cutting effects will never disappoint you.
Also you may need co2 laser cut kit, laser tube and more spare parts in our online store.
4.DIY Laser CNC Engraver:
Co2 Laser Engraver Controller, especially for household laser engraver, self-made DIY laser engraver and Mini Laser Engraver. High speed is the best point for engraving.
Smaller hobby laser engraver with this controller can work in a 400-600 speed.
Max 50% working time saved. Time is money!
Note:Pls download the software from below PDF label, or our sales will send by email.


1. I don't know this website well, how can I trust you?

Sign-in-China.com has launched online bussiness for 6 years who already has established customers over 120 countries and areas. We are the lifelong member of ISA and SGIA, and the verified user of PayPal as well as approved by BBB certification.

Learn more about us from the following links:

19th Reklama Pholygraf Trade Fair 2012

ISA International Sign Expo 2012

Exhibition of International Trade Fair for Visual Communication, Technology and Design in Düsseldorf, 2011




Buyers say:

Jackson, Andy and David from UK

Adam Fernanders from South Africa

Adam Fernanders from Australia
2. Not clear about the Price Policy of Sign-in-China.com?

a) The Stepped Price
According to the different procurement quantities of customers, Sign-in-China.com formulates different price levels for commodity. Hence, your purchase price will be ultimately attributed to the procurement quantity.
The Stepped Prices shown on the product page is as following:


b) Trial Order Price / Sample Price
We offer free samples or some lower priced products(the product price plus shipping cost only)for our customers easily to experience our products and services from purchasing.
For details, please click:
https://www.sign-in-china.com/product/sampleproduct.html

c) Limited Time Offers
Every Tuesday Sign-in-China.com releases the latest products for Limited Time Offer, and after one week, the original price will be recovered. We sincerely expect your timely attention to the discount activities of Limited Time Offers on Sign-in-China.com.
For details, please click:
https://www.sign-in-china.com/product/discount.html

d) Flash Wholesale
Every Monday Sign-In-China.com and cooperation factory jointly campaigns the Flash Wholesale products for bulk purchase customers, and after a week, the original price will be receovered. We sincerely expect your timely attention to the preferential activities on Sign-In-China.com.
For details, please click:
https://www.sign-in-china.com/product/featuredproduct.html

e) You decide the prices for Bulk Orders
If the commodity quality you choose beyonds the quantity of fourth step price on Sign-in-China.com, or if you think the website stepped prices don't meet your bulk purchase demand, you can use our "Make Offer" service on Sign-in-China.com to fill out your planned purchase quantity and target price then submit as a Bulk Order, for which we will review and endeavor to realize the deal with you.
If you need bulk order , please enter here to Make Offer:

3. How to pay? Can I use credit card?

You may use the following methods of payment: PayPal online payment, PayPal direct payment, credit card (through PayPal gateway, some areas may be restricted), bank transfer, and Telegraphic Transfer (T/T) payment.
For details, please refer to the following:

a) PayPal online payment
https://www.paypal.com/webapps/mpp/buying-online

b) PayPal direct payment (our PayPal account: lyh@chinasigns.cn)
https://www.paypal.com/webapps/mpp/make-online-payments

c) Credit card payment (through PayPal gateway, some areas may be restricted)
https://www.paypal.com/us/webapps/helpcenter/article/?articleID=94038&topicID=11500008&m=TTQ

d) Bank transfer
https://www.paypal.com/us/webapps/helpcenter/article/?articleID=94040&topicID=11500008&m=TTQ

e) Telegraphic Transfer (T/T) payment
(1) Place an order
(2) Get the bank account information of Sign-in-China.com
(3) Make the payment at the bank, and get the Payment Receipt
(4) Send the Payment Receipt to service@sign-in-china.com
(5) Receive the Tracking Number of your order
(6) Wait for your order.

Bank transfer payment information:

BANK NAME:HONGKONG AND SHANGHAI BANKING CORPORATION LIMITED
BANK ADDRESS:ROOM 2105, BJ1038, TREND CENTRE, 29-31 CHEUNG LEE STREET, CHAI WAN, HONG KONG.
BANK SWIFT CODE: HSBCHKHHHKH
BENEFICIARY NAME: CHINASIGNS INFORMATION (HONGKONG) CO.,LTD
ACCOUNT NUMBER: 801165036838
4. Is it safe to pay online? Will it occur any security problems concerning my personal information?

PayPal, one of the faster and safer ways to pay and get paid online, has worldwide 113 million active accounts, and supports 190 markets and 25 currencies. As a result, PayPal enables global commerce. For details:
https://www.paypal.com/webapps/mpp/paypal-safety-and-security
5. Why did my PayPal payment fail?

The main reasons of failures and solutions:
a) Confirm if your credit card requires verification:
https://www.paypal.com/us/webapps/helpcenter/article/?solutionId=10568&m=SRE
b) Confirm if you have exceeded the limitation of maximum amount
https://www.paypal.com/us/webapps/helpcenter/article/?solutionId=11516&m=SRE
c) Confirm if you have any other restrictions
https://www.paypal.com/us/webapps/helpcenter/article/?articleID=94053&m=SRE
6. How can I know if it is paid successfully?

We will send you a payment confirmation email upon receiving your payment, and your purchase order in "My Account" will be categorized as "Paid". If you use check or Telegraphic Transfer (T/T) payment, we will change the status of your order until your payment confirmed , and then we will send you the conformation email.
7. How long can I receive the items?

Normally speaking, we will spend 1 or 2 days to prepare the order and if it requires longer time, we will inform you as soon as possible. The general shipping time will be 3 to 7 days. Therefore, under normal situation, you will receive the items in 4 to 9 days.
8. How to receive my order ? Is it safe during shipping?
9. How to obtain the tracking number of shipment? And how to contact the carrier (express delivery company)?

We will send you the tracking number after shipping your items, hereby please keep on checking your email.
10. How to return items and how about the warranty?

For details, please click the following links:
Changes & Returns: https://www.sign-in-china.com/info/ChangesandReturns.html
11. If I still have questions to this product, what shall I do?

Please click on the product page and submit your questions, we will reply you as soon as possible.
12. How to change my shipping address?

You can change your shipping address on the confirmation page of your purchase order.