Hanging Signs are the most effective way to get noticed when exhibiting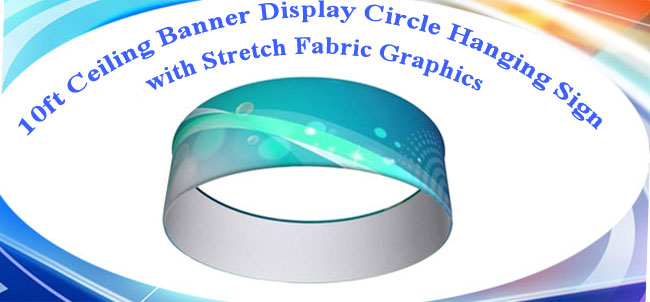 Easy 4 Steps to Custom Made Your Trade Show Displays:




Artwork Guidance & Requirement
| | | |
| --- | --- | --- |
| 5ftx2.5ft Template.pdf | 10ftx2ft Template.pdf | 20ftx4ft Template.pdf |

Tips:
Our customer manager will contact you within 2 days to consult on your artwork and you approve final design draft.

Note:Please exactly follow our artwork requirement in "PDF"tag. Especially all the fonts in the file need to be changed to outlines.

Description:
Rise above your competition at your next trade show! If you re looking for something big for your shows, our extra large fabric hanging display will get you noticed. The lightweight frame, made of cold drawn aluminum in unique, eye-catching shapes, snaps together for quick and easy set up with no tools. The single or double sided graphic is printed with dye sublimation on high quality fabric that just zips on, and the included cable makes the display simple to hang practically anywhere: convention centers, retail locations, trade shows and more! Our fabric hanging display will ensure that you stand out!
Specification Form

5ft / Single Sided Graphic

5ft / Double Sided Graphic

10ft / Single Sided Graphic

10ft / Double Sided Graphic

20ft / Single Sided Graphic

20ft / Double Sided Graphic

Material

Aluminum , Fabric Dye Sub

Print Options

Full Color

Printing Type

Dye Sublimation

Usage

Indoor & Outdoor Promotion

Graphic size

Dia 60" x 30" H (Dia 152.4cm x 76.2cm H)

Dia 60" x 30" H (Dia 152.4cm x 76.2cm H)
Dia 120" x 24" H (Dia 304.8cm x 61cm H)
Dia 120" x 24" H (Dia 304.8cm x 61cm H)

Dia 240" x 48" H (Dia 609.6cm x 121.9cm H)

Dia 240" x 48" H (Dia 609.6cm x 121.9cm H)

Gross Weight

20.5lb (9.3kg)

20.5lb (9.3kg)

35.9lb (16.3kg)

35.9lb (16.3kg)

78.8lb (35.8kg)

78.8lb (35.8kg)



Feature:
Our high quality hanging signs for trade shows are designed to be eye catching. Snap fit aluminum tubes that fit into one another, a crisp, fast assembly and top notch looks.
• Fast & easy installation without tools.
• Super wide format of non-seam graphic technology, flat and smooth;
• Anti-sunburn and UV resistance without fading, rainproof and washable, recyclable and economical.
• Tension fabric printing, heat sublimation ink with beautiful colors, odorless and environmental.
• Wrinkle free elastic fabric graphic, fordable, portable, strong and durable.
• Less aluminum profile and parts, more economic.
• Beautiful design, handy, fashionable and unique.
• Mild graphic with vividness.
• For indoor and outdoor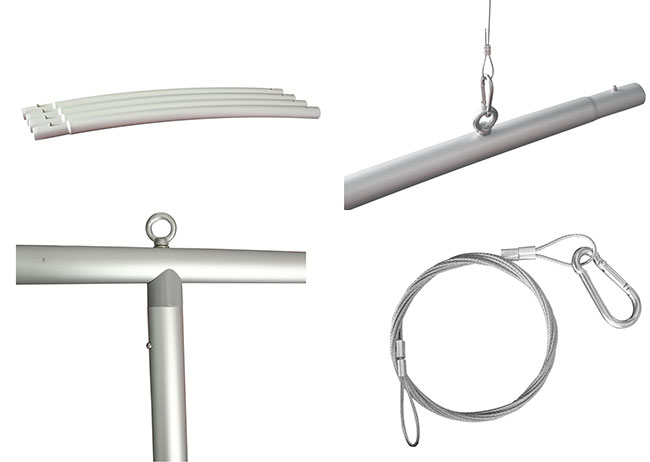 Dye-sublimation Printing:
1.We use Dye-sublimation to print the graphic.
2.Dye-sublimation printing is a digital printing technology using full color artwork that works with polyester and polymer-coated substrates.
3. Because the dyes are infused into the substrate at the molecular level, rather than applied at a topical level (such as with Screen Printing and direct to garment printing), the prints will not crack, fade or peel from the substrate under normal conditions.
4. Colors can be extraordinarily brilliant due to the bonding of the dye to the transparent fibers of the synthetic fabric, truly continuous tones can be achieved that are equivalent to photographs, without the use special techniques such as half-screen printing, and the image can be printed all over the entire item, with no difficulty in printing all the way to the edges.