30 Degree Big roland vinyl cutter Compatible Replacement Blades for reflective sheeting Cutting, 3A Grade 5pcs/pack
Special for cutting letters and graphics on 3M reflective sheet, Diamond grade reflective sheet,Vehicle Wraps reflective sheet
To be used with Roland brand vinyl cutters and all brands of Chinese vinyl cutting plotter, such as Redsail, Rabbit, Fosion, Liyu, Cutok, Lidar, Jiachen and many more cutters on market.

Tips:
The 30 degree blades are meant for lighter vinyl or standard vinyl cutting. When your blade wears out, keep these replacement blades nearby so that you don't lose time during job production.
The 30 degree blades are good general purpose blades that do a very good job cutting both large and small letters / shapes in vinyl. There are 5 pcs in 1 pack.




Specifications:
• Material: The 3A series vinyl cutting blade bits stand for German best quality ultrafine tungsten steel and rigidity is at around 96HRA. HRC of material to be processed is 60.
• Blade Length: 23mm(0.91")±1mm
• Shrank Diameter: 2mm(0.8")
• CED: 1.4mm
• Knifepoint offset: 0.25mm and 450-1500
• Rigidity: 96HRA Rockwell

Remarks: The standard size of the blade: Diameter 2mm, length 23mm
Please measure your old blade before your purchase. Because if you find the size is wrong and want to return it back, you will afford the freight yourself.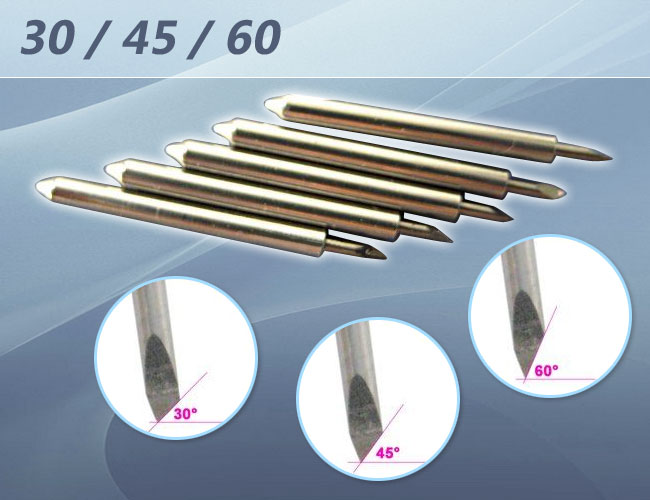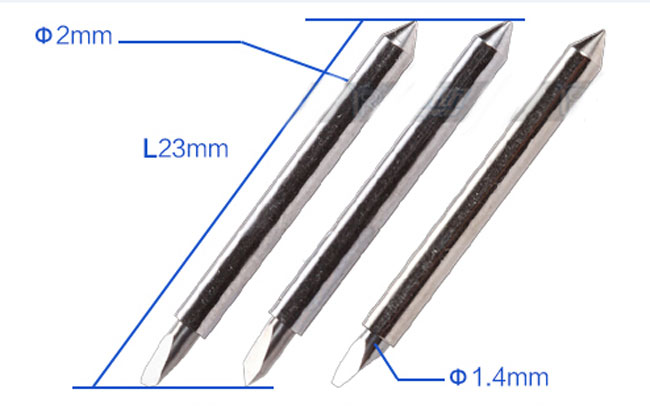 Comparison between Big Roland and Standard Roland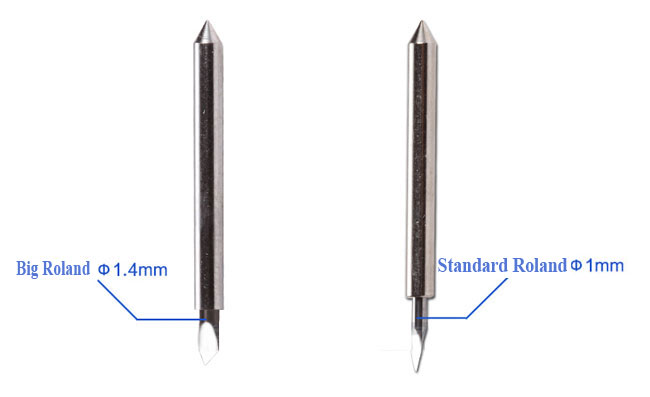 About Materials: At present, we have N, A, AA, 3A, four kinds of materials.
· The N series material stands for tungsten steel material made in China and its rigidity is at 88-89HRA (Rockwell Hardness, A Scale).
· The A series vinyl cutting blade are made of tungsten steel material from Taiwan and their rigidity at 90-91HRA., HRC of material to be processed is 45.
· The AA series vinyl cutting blade stand for German ultrafine tungsten steel and rigidity is at 93-94HRA, HRC of material to be processed is 50.
· The 3A series vinyl cutting blade bits stand for German best quality ultrafine tungsten steel and rigidity is at around 96HRA. HRC of material to be processed is 60.
The better quality of material is, the higher rigidity and durability as well as materially longer lifespan.
The stronger rigidity it is, the blade won't distort during process and give better processing effect.
And the more fine tungsten steel's particle is, the sharp bits of the blade polished as a result for better processing effect.

Application: