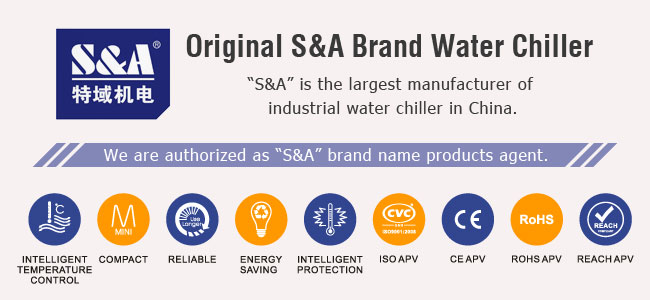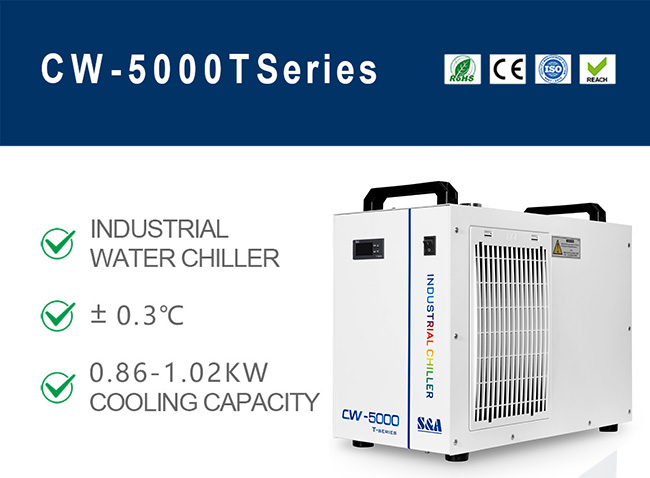 It is designed for cooling the one CO2 glass laser tube under 150W of the laser engraving and cutting machine. (Its emitting rate is higher than 60 %.)
Cooling capacity is 800W.
Have design patent Certificate, CE and RoHS Certificate.
This Water Chiller has been sold largely to Europe, South America, Asia and other markets.
Economic cooling equipment, easy to install and operate, compact and easily movable.

Features:
• It is suitable for cooling the laser tube under 150W, and the temperature can be adjusted precisely.
• You can choose different models according to local voltage and frequency.
• It can extend the using life of laser tube and ensure the engraving effect better.
• With completed water flow and over high temperature alarm functions
• It can control the water temperature, precision is ±0.3℃, which provide stable working conditions for laser devices.
• Multiple alarm function: compressor time-delay protection, compressor overcurrent protection, water flow alarm and over high / low temperature alarm;
• This series of water chillers adopt intelligent controller, which need not adjust the control parameters under normal
circumstances, it will automatically adjust control parameters according to room temperature changes, to meet the cooling requirement.
• CW-5000 water chiller has unique low flow alarm protection function, which ensures the cooling water cycle working safely.
• Specific disconnection alarm securing protection.
• Enclosed water tanks, water used for a long time.
• Equipped with alarm output port, can quickly protect sensitive components.
• High cost performance, low failure rate.
• Multiple power specifications; CE approval; RoHS approval.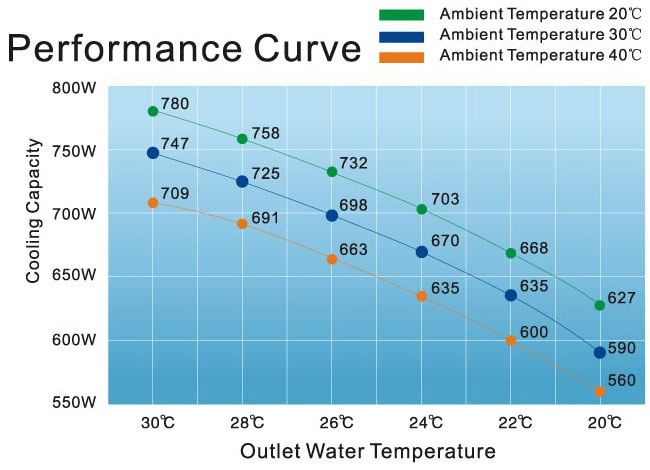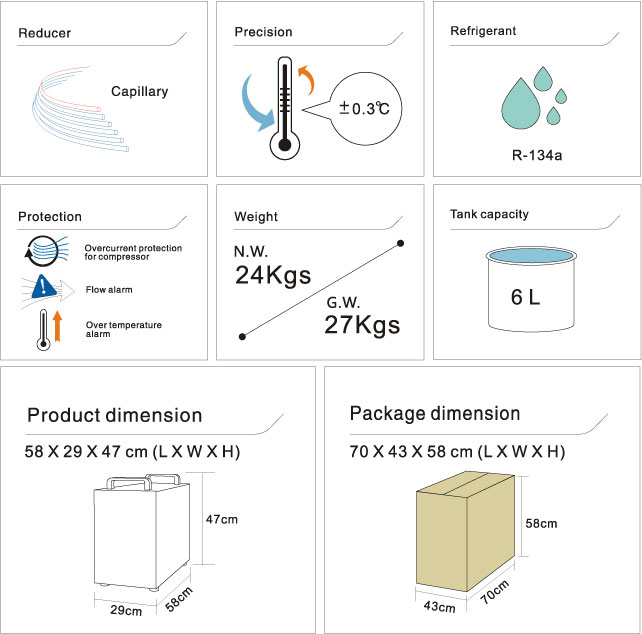 Note: cooling water additive is forbidden by express company, so we could not put it into the package. You can buy it from local.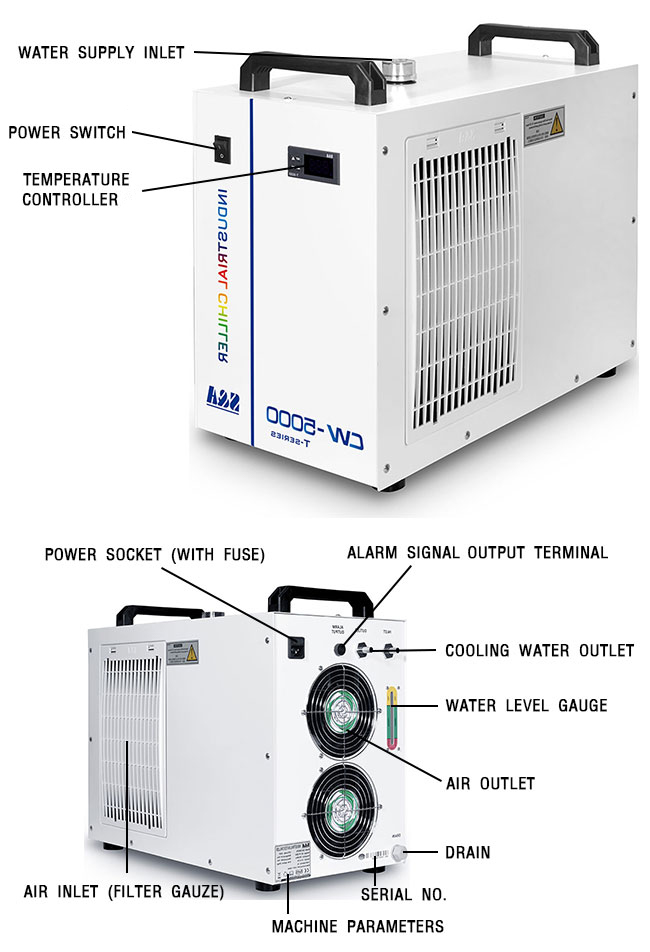 User-friendly control panel
The temperature controller offers high precision temperature control of ±0.3°C and two user-adjustable temperature control modes - constant temperature mode and intelligent control mode.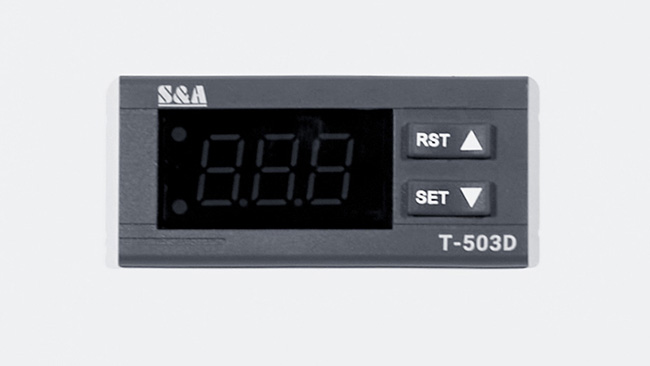 Easy-to-read water level indicator
The water level indicator has 3 color areas - yellow, green and red.
Yellow area - high water level.
Green area - normal water level.
Red area - low water level.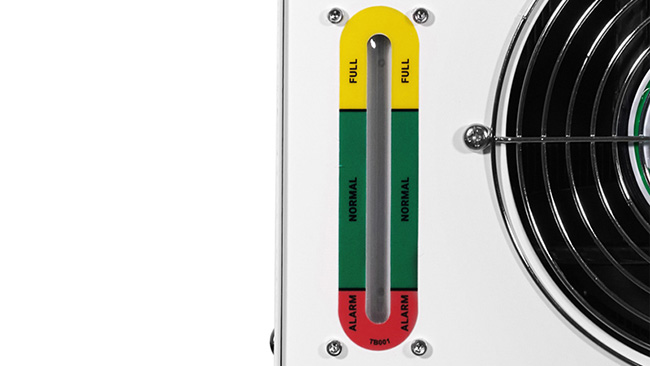 Dust-proof filter
Integrated with the grill of the side panels, easy mounting and removal.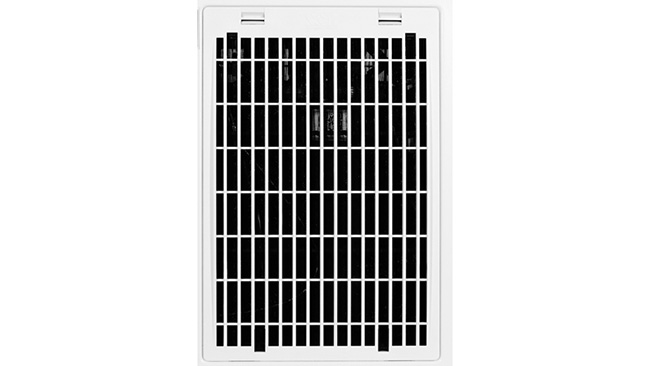 Ease of moving and water filling
The firm handle can help move the water chillers easily.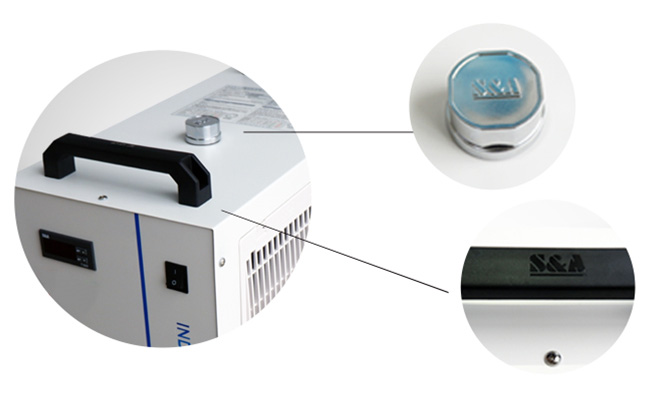 Ventilation Distance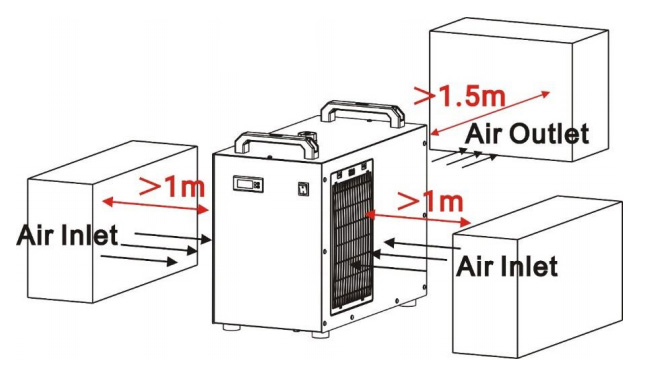 Alarm Function's Description: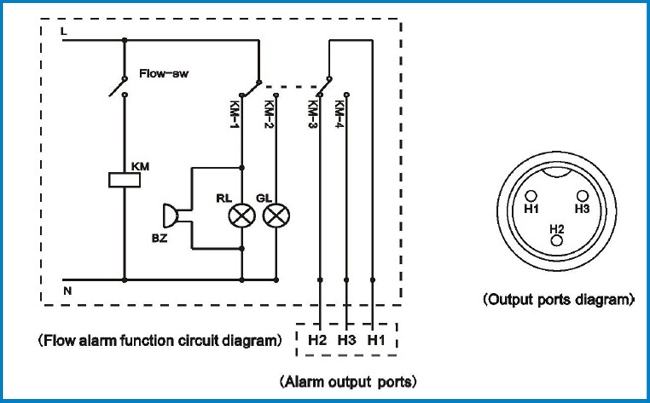 Flow alarm and output ports:
In order to guarantee the equipment will not be damaged while cooling water circulation is out of control, CW-5000series chillers possesses an unique low flow alarm protection.

The cooling water circulation loop alarm causes and the work of the state table
Normal Flow

Indicator

Flow Alarm

Indicator

Buzzer

Output Ports

Hi, H2

Output Ports

H1, H3

Circulating pump works properly
ON
OFF
NOT RING
DISCONNECTION
BREAKOVER
Blocked cooling water circulation loop
OFF
ON
RING
BREAKOVER
DISCONNECTION
Alarm of water shortage
OFF
ON
RING
BREAKOVER
DISCONNECTION
Faulted circulating pump
OFF
ON
RING
BREAKOVER
DISCONNECTION
Power interruption
/
/
/
BREAKOVER
DISCONNECTION
Note: The flow alarm is connected to the normally open relay and normally closed relay contacts, requiring operating current less than 5A, working voltage less than 300V.



Fill the water tank with purified water. Connect the water inlet of the water tank to the water outlet of the laser machine and connect the water outlet of the water tank to the water inlet of the laser machine. Connect the signal line of the water tank with that of the laser machine. Please see pictures below.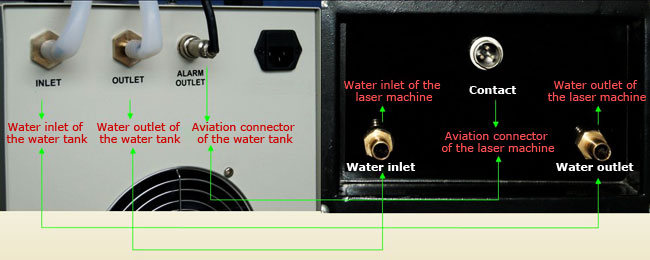 Industrial cooling machine's installation is very simple, the new machine for the first time using, you can install it as following steps.


A.
Open the package to check if the machine is intact and all the necessary Accessories are completed.



B.

Open the injection port to feed cooling water.
Observing the water level gauge and adding water slowly, be careful not to have the water overflowed! For the cooling of carbon steel equipment, the water should be added an appropriate amount of anti - corrosion agentia. Working in cold north area, it's better to use noncorrosive antifreeze fluid.

C.According to system conditions, please connect the water inlet and outlet pipe well.

D.Plug in power, turn on the power switch. (Do not start up without water in the water tank!)
(1) Power switch turned on, the circulation pump of the chiller starts working. The first time of operating may cause more bubbles in the pipe leading to a flow alarming occasionally, but running for a few minutes later, it will go back to normal.
(2) After the first boot, you must immediately check whether the water pipe leaks.
(3) Power switched on, if the water temperature is below the set figure, it is normal that fans and other components of the machine do not work. The temperature controller will automatically control the working conditions of the compressor, magnetic valve, fans and other parts based on the set controlling parameters.
(4) As it takes a longer time to start the compressor and other components, according to different conditions, the time is range from seconds to minutes, so do not turn off the power and again on frequently.

E.Check the water level in the water tank.
The first startup of the new chiller empties the air in the water pipe, leading a slight water level decline, but in order to keep the water level in the green area, it's allowed to add adequate water again. Please observe and record the current water level, and inspect it again after the chiller running for a period of time, if the water level drops obviously, please re-inspect the water pipeline leakage.

F.Adjust parameters of temperature controller.
CW-5000 series use an intelligent thermostat. Normally users do not need to adjust it. If it is really necessary, please refer to "Operating status and parameters adjustment."

Maintenance
Cooling machine used in long term, you should open the machine and clean the dust in order to ensure good heat dissipation.
You can use non – corrosive antifreeze if you are in the northern cold regions.

Cautions
1. Please ensure that the power supply and electrical outlet are in good contact and the earth wire must be firmly grounded! Although the average operating current of the chiller is small, but the instantaneous operating current could be up to 6 ~ 10amps sometimes (The instantaneous operating current of models of AC110V power supply are possible to be up to 10 ~ 15amps).

2. Please make sure there is a stable and normal voltage for the working chiller! As the refrigeration compressor is more sensitive to the power supply and voltage, so the operating voltage of our standard product is of 200 ~ 250V (110V model is of 100 ~130V). If you do need a wider operating voltage range, customization is available for us.

3. To protect the pump, it's strictly forbidden to run the chiller without having water in the storage water tank! The new machine is packed after draining whole water in the tank, so please make sure the tank has water inside before machine starting, otherwise it's easily to have the pump damaged. When the water level is below the green (NORMAL) range of the water level gauge, the cooling capacity of our chiller will go down slightly. Hence please ensure the water level is within the green (NORMAL) range. To drain through circulating pump is strictly prohibited!

4. Please be sure that the air inlet and air outlet are in good ventilation! There must be at least 30cm from obstructions to the air outlet which is in the back of the cooler, and should leave at least 8cm between obstructions and the side air inlet.

5. The filter screen must be regularly cleaned! It's essential to unpick and wash the dust gauze, or the serious blockage will cause breakdown to the chiller.
6. Please pay attention to the effect of the condensate water! With greater ambient humidity, when the water temperature is lower than the ambient temperature, the condensate water will generate on the surface of water circular pipes and the cooled components. If above circumstance appears, it is recommended to set a higher water temperature or keep pipes and cooled parts warm.
Application:
CW5000-water-chiller-cool-for-Picosecond-Lasers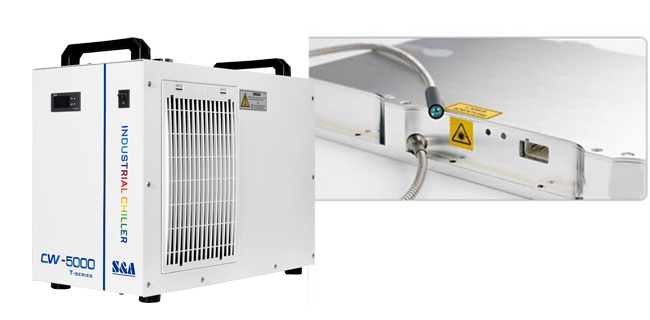 CW5000-water-chiller-cool-for-UV-laser-marking-machine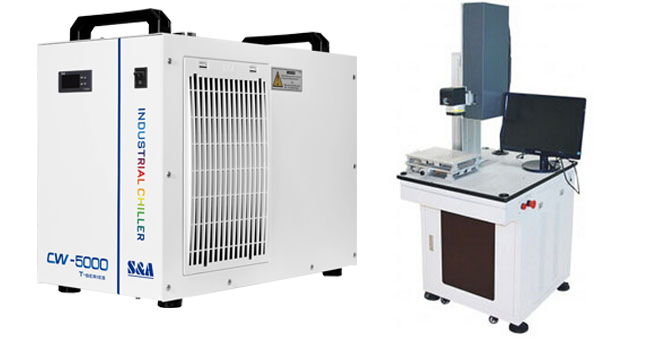 CW5000-water-chiller-cool-for-Uv-solid-laser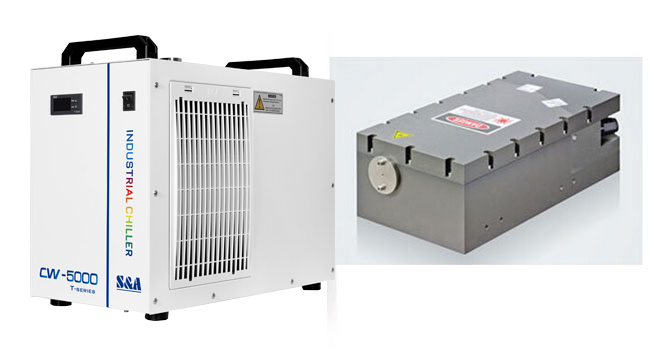 CW5000-water-chiller-for-cooling-700W1500W-UV-light-source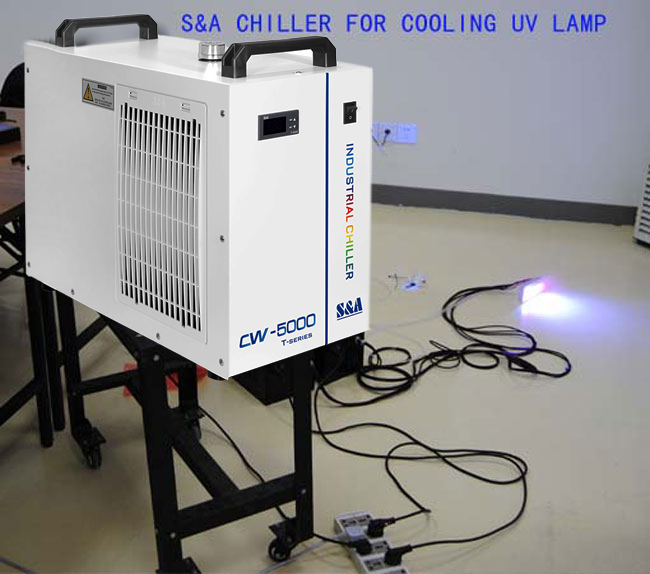 CW5000-water-chiller-for-cooling-UV-LED-source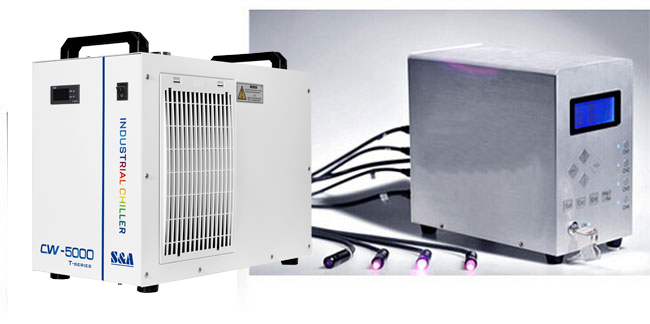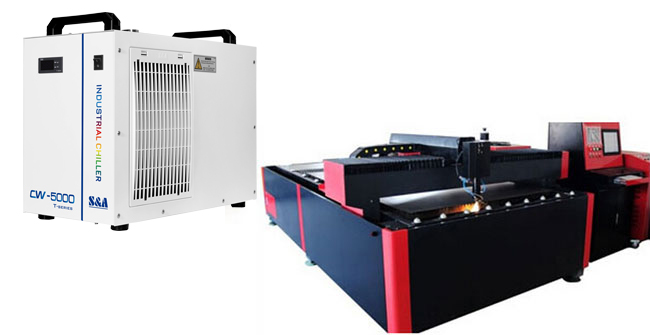 Industrial-chiller-CW-5000-for-HF-welding-machine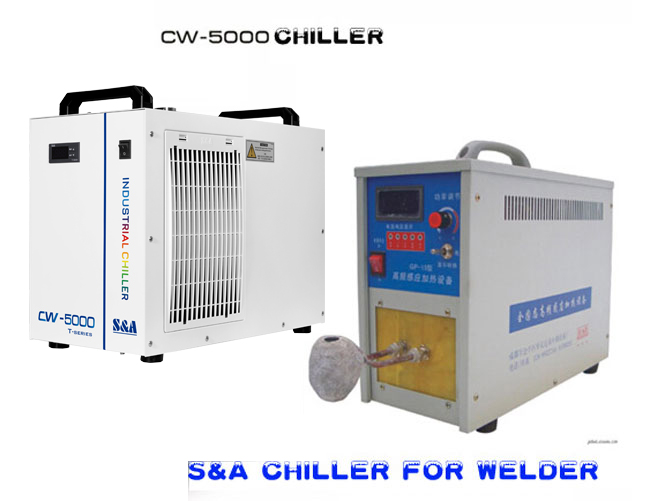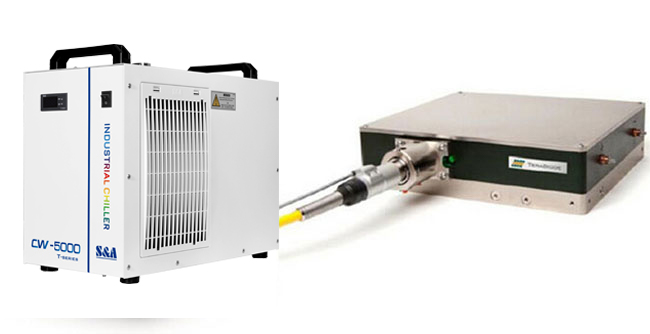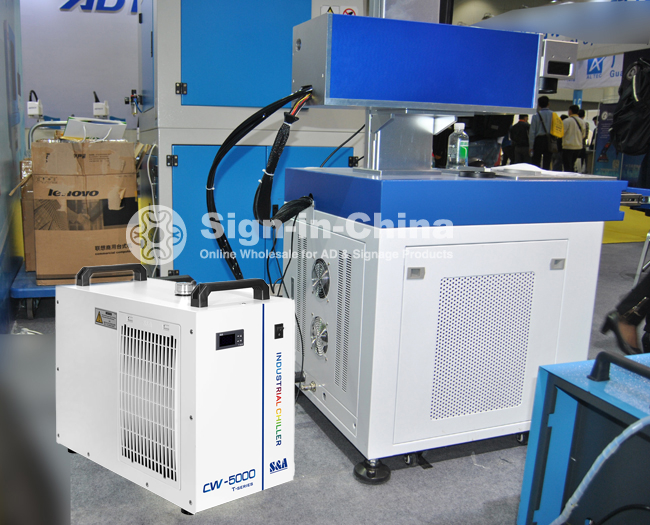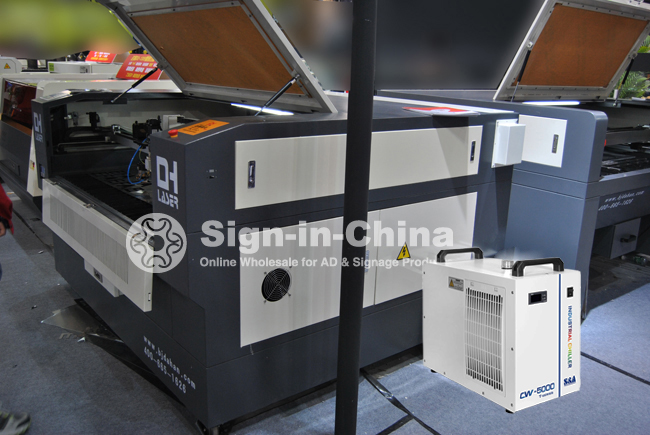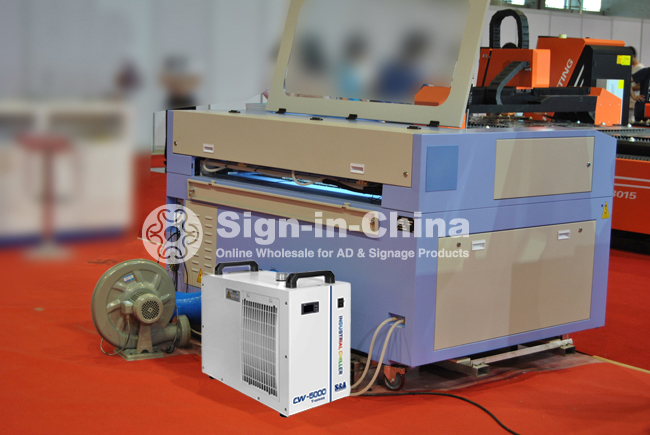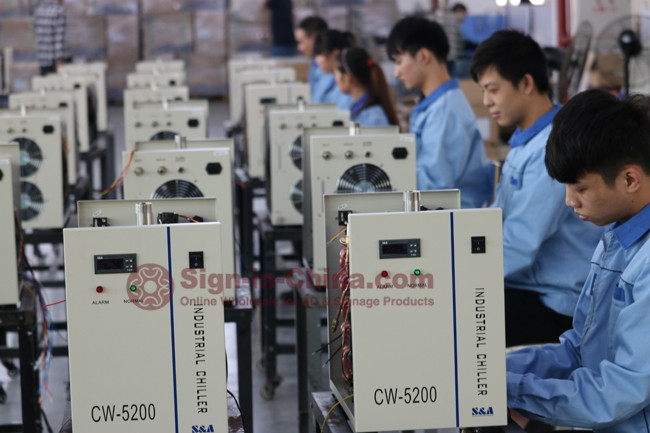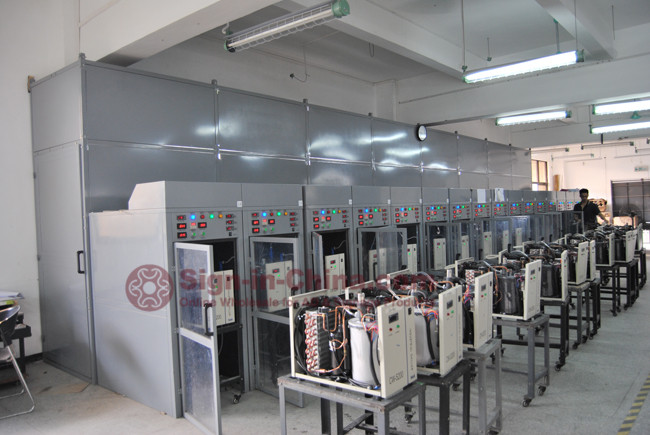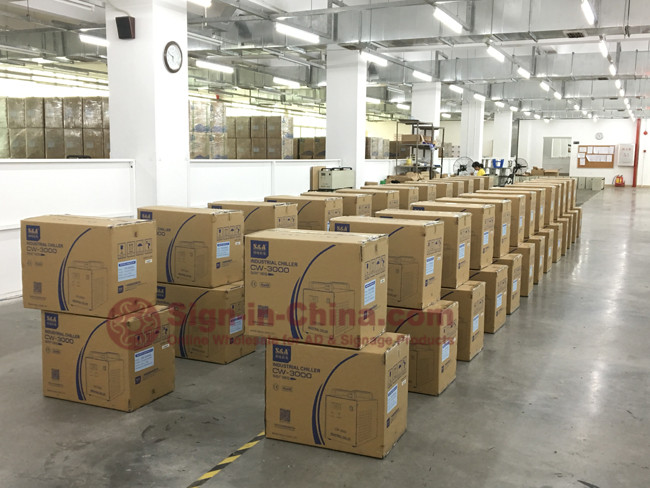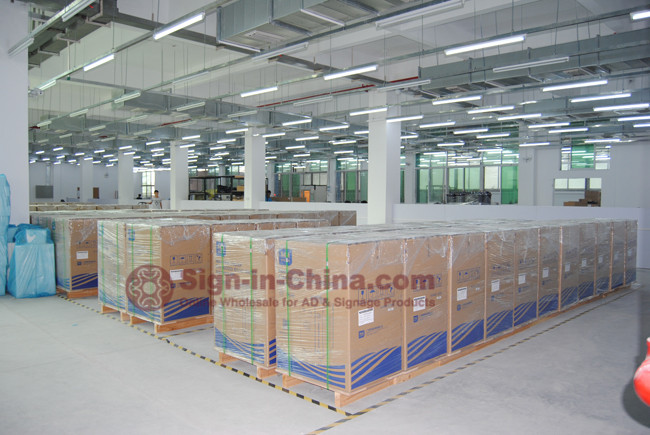 Quality Report:

1. I don't know this website well, how can I trust you?

Sign-in-China.com has launched online bussiness for 6 years who already has established customers over 120 countries and areas. We are the lifelong member of ISA and SGIA, and the verified user of PayPal as well as approved by BBB certification.

Learn more about us from the following links:

19th Reklama Pholygraf Trade Fair 2012

ISA International Sign Expo 2012

Exhibition of International Trade Fair for Visual Communication, Technology and Design in Düsseldorf, 2011




Buyers say:

Jackson, Andy and David from UK

Adam Fernanders from South Africa

Adam Fernanders from Australia
2. Not clear about the Price Policy of Sign-in-China.com?

a) The Stepped Price
According to the different procurement quantities of customers, Sign-in-China.com formulates different price levels for commodity. Hence, your purchase price will be ultimately attributed to the procurement quantity.
The Stepped Prices shown on the product page is as following:


b) Trial Order Price / Sample Price
We offer free samples or some lower priced products(the product price plus shipping cost only)for our customers easily to experience our products and services from purchasing.
For details, please click:
https://www.sign-in-china.com/product/sampleproduct.html

c) Limited Time Offers
Every Tuesday Sign-in-China.com releases the latest products for Limited Time Offer, and after one week, the original price will be recovered. We sincerely expect your timely attention to the discount activities of Limited Time Offers on Sign-in-China.com.
For details, please click:
https://www.sign-in-china.com/product/discount.html

d) Flash Wholesale
Every Monday Sign-In-China.com and cooperation factory jointly campaigns the Flash Wholesale products for bulk purchase customers, and after a week, the original price will be receovered. We sincerely expect your timely attention to the preferential activities on Sign-In-China.com.
For details, please click:
https://www.sign-in-china.com/product/featuredproduct.html

e) You decide the prices for Bulk Orders
If the commodity quality you choose beyonds the quantity of fourth step price on Sign-in-China.com, or if you think the website stepped prices don't meet your bulk purchase demand, you can use our "Make Offer" service on Sign-in-China.com to fill out your planned purchase quantity and target price then submit as a Bulk Order, for which we will review and endeavor to realize the deal with you.
If you need bulk order , please enter here to Make Offer:

3. How to pay? Can I use credit card?

You may use the following methods of payment: PayPal online payment, PayPal direct payment, credit card (through PayPal gateway, some areas may be restricted), bank transfer, and Telegraphic Transfer (T/T) payment.
For details, please refer to the following:

a) PayPal online payment
https://www.paypal.com/webapps/mpp/buying-online

b) PayPal direct payment (our PayPal account: lyh@chinasigns.cn)
https://www.paypal.com/webapps/mpp/make-online-payments

c) Credit card payment (through PayPal gateway, some areas may be restricted)
https://www.paypal.com/us/webapps/helpcenter/article/?articleID=94038&topicID=11500008&m=TTQ

d) Bank transfer
https://www.paypal.com/us/webapps/helpcenter/article/?articleID=94040&topicID=11500008&m=TTQ

e) Telegraphic Transfer (T/T) payment
(1) Place an order
(2) Get the bank account information of Sign-in-China.com
(3) Make the payment at the bank, and get the Payment Receipt
(4) Send the Payment Receipt to service@sign-in-china.com
(5) Receive the Tracking Number of your order
(6) Wait for your order.

Bank transfer payment information:

BANK NAME:HONGKONG AND SHANGHAI BANKING CORPORATION LIMITED
BANK ADDRESS:ROOM 2105, BJ1038, TREND CENTRE, 29-31 CHEUNG LEE STREET, CHAI WAN, HONG KONG.
BANK SWIFT CODE: HSBCHKHHHKH
BENEFICIARY NAME: CHINASIGNS INFORMATION (HONGKONG) CO.,LTD
ACCOUNT NUMBER: 801165036838
4. Is it safe to pay online? Will it occur any security problems concerning my personal information?

PayPal, one of the faster and safer ways to pay and get paid online, has worldwide 113 million active accounts, and supports 190 markets and 25 currencies. As a result, PayPal enables global commerce. For details:
https://www.paypal.com/webapps/mpp/paypal-safety-and-security
5. Why did my PayPal payment fail?

The main reasons of failures and solutions:
a) Confirm if your credit card requires verification:
https://www.paypal.com/us/webapps/helpcenter/article/?solutionId=10568&m=SRE
b) Confirm if you have exceeded the limitation of maximum amount
https://www.paypal.com/us/webapps/helpcenter/article/?solutionId=11516&m=SRE
c) Confirm if you have any other restrictions
https://www.paypal.com/us/webapps/helpcenter/article/?articleID=94053&m=SRE
6. How can I know if it is paid successfully?

We will send you a payment confirmation email upon receiving your payment, and your purchase order in "My Account" will be categorized as "Paid". If you use check or Telegraphic Transfer (T/T) payment, we will change the status of your order until your payment confirmed , and then we will send you the conformation email.
7. How long can I receive the items?

Normally speaking, we will spend 1 or 2 days to prepare the order and if it requires longer time, we will inform you as soon as possible. The general shipping time will be 3 to 7 days. Therefore, under normal situation, you will receive the items in 4 to 9 days.
8. How to receive my order ? Is it safe during shipping?
9. How to obtain the tracking number of shipment? And how to contact the carrier (express delivery company)?

We will send you the tracking number after shipping your items, hereby please keep on checking your email.
10. How to return items and how about the warranty?

For details, please click the following links:
Changes & Returns: https://www.sign-in-china.com/info/ChangesandReturns.html
11. If I still have questions to this product, what shall I do?

Please click on the product page and submit your questions, we will reply you as soon as possible.
12. How to change my shipping address?

You can change your shipping address on the confirmation page of your purchase order.