The foam/plastics cutter is a hot filament cutter, characterized by its optimized design, large processing scope, and simple operation. It uses 0.5 millimeter heating wire, which allows faster heat release. It is very steady, fast, and has a high degree of fineness. By using an advanced computer design, instead of manually cutting, you now have automated computer controlled cutting, resulting in a much higher efficiency.

Specification
| | |
| --- | --- |
| Product Model | CNCR-PM-1412 |
| Working Table Siz | 72.8" x 23.6" (1850mm x 600mm) |
| Maximum Cutting Size (XYZ) | 55" x 47" x 19.7" (1400mm x 1200mm x 500mm) |
| Maximum Cutting Speed | 0-47.2" (1200mm) / min |
| Wire Diameter | Ø 0.5mm |
| Power Source | AC220V ± 10% 50Hz |
| Driver | Stepper motor |
| Consumption | 0.8KW |
| Manner of Receiving Data | Flash memory disk |

Applications: The foam cutting machine is a new machine in its field, and it can be used for advertising, billboards and the cast iron industry to replace wooden moulds.

Product Highlights
◆ The cutter uses a hot filament for cutting foam and plastics with fashionable design, and a large working table of 73" x 23" (1850mm x 600mm).
◆ By using the 0.5mm heating wire as a cutter, the foam cutter can smoothly and efficiently cut complex shapes.
◆ Large LCD screen, large working area of 55" x 47" x 19" (1400mm x 1200mm x 500mm) (XY), and easy operation.
◆ You can also choose rotary fixture to process cylindrical objects.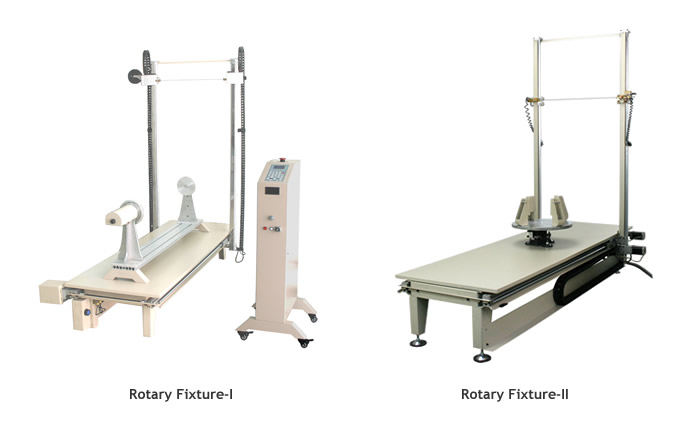 The optional spare parts for the CNC foam cutting machine:
Heating Wire: $22 / set (Dia.: 0.3mm, 0.5mm x 40m L) (Add an extra fee to the price)
Rotary Fixture-I: $850 / set (Add an extra fee to the price), used for cutting foam which diameter is within 500mm.
Rotary Fixture-II: $850 / set (Add an extra fee to the price)

Remark: The price will float subject to foreign exchange. Please ask our salesman for the final quotation before you make an order.

Samples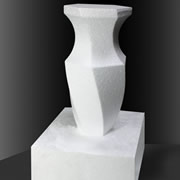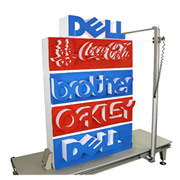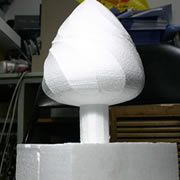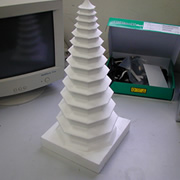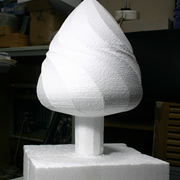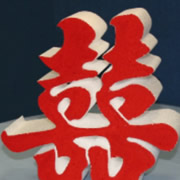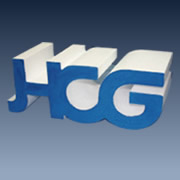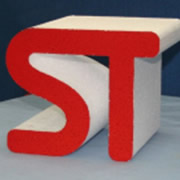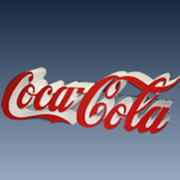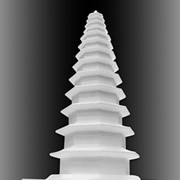 Lead Time: After receiving customer's deposit, within 7-15 days.
Wooden Box: There is total one wooden box.
| | |
| --- | --- |
| Machine Dimension | 77.2" x 39.4" x 65.3" (1960mm x 1000mm x 1660mm) |
| Machine Weight | 176lb (80kg) |
| Package | Fumigation free package |
| Packing Size | 84.6" x 39.4" x 38.6" (2150mm x 1000mm x 980mm) |
| Gross Weight | 220.5lb (100kg) |

Packing List
| | | |
| --- | --- | --- |
| No. | Name | Qty |
| 1 | CNC foam cutter | 1 set |
| 2 | Heating wire (Dia. 0.5 x 40m L) | 1 set |
| 3 | Tool box | 1 set |
| 4 | Inspection certificate | 1 pc |
| 5 | Warranty card | 1 pc |
| 6 | User Manual | 1 set |
| 7 | CD | 1 pc |
| 8 | Control system operation manual | 1 pc |
| 9 | Rotary fixture | 1 pc |