60Degree Mimaki Cemented Carbide Vinyl Cutter Blades, N Grade Cemented Carbide Materials, 5pcs/pack

Cutting plotter applicable: Mimaki
Especially for large fronts, and thick materials which about 1mm, eg. reflective materials, masking tapes, etc.

To be used with: Mimaki CG-50, CG-60EX, CG-60SR, CG-60SRIII, CG-60ST, CG-75FX, CG-75FXII, CG-90SD, CG-100EX, CG-100LX, CG-100SD, CG-100SRII, CG-100SRIII, CG-130EX,CG-130FX, CG-130FXII, CG-130LX, CG-130SRIII, CG-160FX, CG-160FXII, CG-101, CG-45, CG-61, CG-100SD, CG-90AP.
Mimaki CF2-0912RC, CF2-0912RT, CF2-0912T, CF2-0912TD, CF2-0912TF, CF2-1215RC, CF2-1215RT, CF2-1215T, CF2-1215TD, CF2-1215TF, CF2-1218RT, CF2-1218T, CF2-1218TD, CF2-1218TF, CF2-0907RC, CF2-0907RT, CF2-0907T, CF2-0907TD, CF2-0907TF, CF3-1610R1, CF3-1610TF2, CF3-1631R1, CF3-1631TF2, CFS-1313, CFR-1220, CF-0907-2, CF-0912-2, CF-1215-2, CF-1218-2.
Mimaki CJV30-60, CJV30-60BS, CJV30-100, CJV30-100BS, CJV30-130, CJV30-130BS, CJV30-160, CJV30-160BS, TPC-1000.

Features:
Tungsten cemented carbide: Durable
High and new tech: Precise
Made in Cemented Carbide
High quality and Extra long life
Five blades in one plastic box, best quality, reasonable price
Suitable for all Mimaki plotters
Blade size: 20mm (Length) x about 1.5mm (diameter)
Knifepoint Offset 0.25 and 600-1500
Vinyl cutting blade, long life OEM Blades
Superior OEM blades for sharpness and durability
Superior cutting of the most intricate designs

LOWEST PRICES - High quality blades are manufactured from China, solid carbide stock utilizing computer controlled CNC machines for precision and cutting accuracy.

PS: Available angles for difference condition: 30 degree is for large designs, 45 degree is for general designs, 60 degree is for small and fine designs. The difference between 30, 45 and 60 degree are showed as below: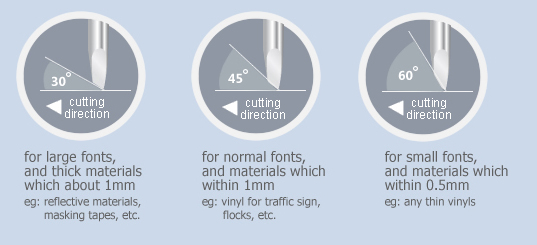 The above information is for reference only, will be affect by the difference brands of material suppliers, and the rough of the blades, please note.

N Series:
1.Be made from chinese tungsten steel material.
2.It's a kind of precise plotting tools with high quality.
3.Featuring hardness of 89 HRC and super resistance to bend.