Product Description:
Wireless Controller is suit for drive LED directly. It is widely used in advertising, stage sets, home decorations, etc. It has many advantages such as low price, easy connection and simplicity to use. It has a memory function. Meanwhile, you could adjust brightness, static color choices and various dynamic changes in lighting effects through wireless remote control. It can also be used as a synchronous controller. That is to say you can synchronously control number of decoders and LED lights.

Technical Parameters:
Working temperature: -20 ~ 60°C
Supply voltage: DC12~24V
Current: <60mA
External dimension: L122 x W71 x H24mm
Packing size: L137 x W80 x H55mm
Net weigh: 180g
Gross weight: 270g
Effects model: 133
Maximum control points: 1024 (Low-speed) points, 2048 (High-speed) points
Controlled IC Model: Such as the TM16726,TM2801,TM8806,WS2811, UCS1903 etc.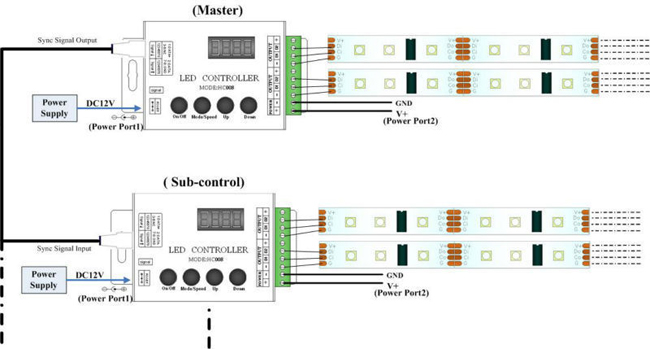 Free shipping on order over 288usd in 25 areas: Puerto Rico, Canada, France, England, America, Australia, Germany, Japan, Thailand, Belgium, Spain, Maldives, Philippines, Russia, South Korea, India, Malaysia, Singapore, Indonesia, Vietnam, Cambodia, Greek, Israel, Pakistan