Description:
This heat transfer system is widely used in transferring all kinds of pictures onto mugs.

The process is:
. First, use a piezoelectric printer (for example: Epson R330 printer) to print the picture onto the sublimation paper.
. Second, put the paper on the surface of the mug and check the position of the picture.
. Third, use adhesive sticker to fix the paper and put the mug on the heat transfer machine, then through pressing and heating, transfer the picture onto the mug making the color stable.
To accomplish the mug transferring, you need to have a piezoelectric printer (like Epson R330), ink cartridge (ink), heat transfer machine, A3 or A4 sublimation paper (rolled paper is also available for different printers) and blank mugs.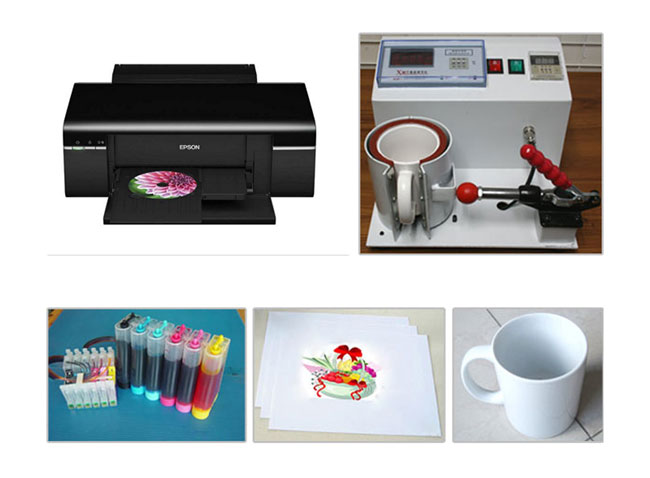 Including:
. One mug heat transfer machine.
. One EPSON Printer(Epson R330 with voltage of 220V).
. One set of continuous-ink-supply device (with heat transfer ink 100ml each color).
. One parcel of heat transfer paper (100piece/parcel).
. One box of white mugs with the diameter of 8.2cm (36/box).
Remarks:
. We have many kinds of mug heat transfer machines; for example, vertical type, horizontal type and five heating mats type for choosing. The price of this system can vary according to the different types of mug heat transfer machines being chosen.
. Detail information on the website:
/catalogs/143/Mug_Plate_Heat_transfer_machine.html.
. If you need extra heat transfer ink, the referable price is $72/L.
. If you need extra heat transfer paper, please visit the following website:
/catalogs/123/sublimation_paper.html
Operating processes:



Attention:
. We suggest buying the mugs whole box; otherwise there is space which will increase the broken risk during the transportation.
. The process should strictly obey the instructions; otherwise it will weaken the transferring effect.
. There are many factors in choosing different heat transfer machines. For example, according to the length and the diameter of the cups, you can choose vertical or horizontal type of heat transfer machine to buy, and if you need the high-speed transfer, the multi-mats type (High-efficient heat transfer machine) will be a good choice.