Description:
This heat transfer system is widely used in transferring all kinds of pictures onto plates.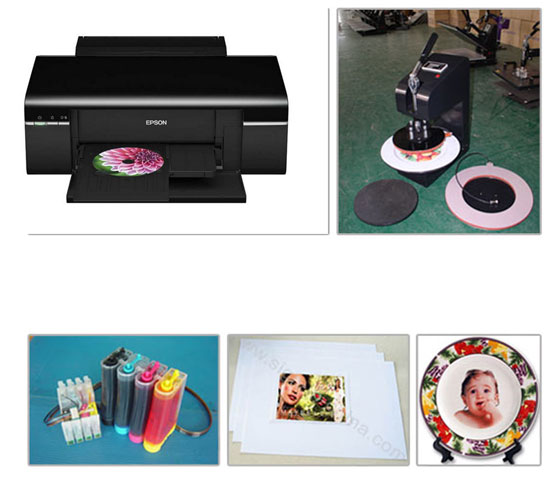 The process is:
. First, use a piezoelectric printer (for example: EPSON C65 printer) to print the picture onto the sublimation paper.
. Second, put the paper on the surface of the plate and check the position of the picture.
. Third, use adhesive sticker to fix the paper and put the plate on the heat transfer machine, then through pressing and heating, transfer the picture onto the plate making the color stable.
To accomplish the plate transferring, you need to have a piezoelectric printer (like Epson R330), ink cartridge (ink), heat transfer machine, A3 or A4 sublimation paper (rolled paper is also available for different printers) and blank plates.

Including:
. One plate heat transfer machine.
. One EPSON Printer(Epson R330 with voltage of 220V).
. One set of continuous-ink-supply device (4 colors, each color 100ml).
. One parcel of heat transfer paper (100 pieces /parcel).

Remarks:
. We have many kinds of plate heat transfer machines; you can choose from `our` extensive range of transfer machines which one suits your needs.
The price of this system can vary according to the different chosen heat transfer machines plates.
. If you need an extra heat transfer ink, the referable price is $72/L.
. If you need extra heat transfer paper, please visit the following website:
/catalogs/123/sublimation_paper.html

Operating Processes:
. Use the colorful inkjet printer (with heat transfer ink) to print the picture on the heat transfer paper (setting mirror image printing style).
. Put the silicone gel mat on, and pull down the handle after fixing the proper pressure. Then plug the machine and turn on the switch.
. Adjust the temperature to 180℃~190℃, the temperature increasing time is about 1~2℃.
. Adjust the time to 100sec~200sec.
. When the temperature reaches the set cipher, it will maintain the temperature automatically.
. Pull up the pressure handle, and put the plate (with paper on it) on the panel. (The size of the picture should oversize the heating panel, avoiding the ceramic plate being burned or appearing the pressing mark.)
. When the temperature reaches the setting cipher, it will produce an alarm and the heating panel will stop heating. At that time, please turn off the switch. Pull up the handle, and then take down the plate. Put the plate into `cool` water to prevent the ink spreading and then wipe it dry.





Attention
During the non-using time, remember to shut the power and pull down the pressure handle to keep smooth (do not press too heavily).