CAUTIONS
We are authorized as "S&A" brand name product agent.
All of S&A water chillers are certified with design patent. Counterfeiting is not allowed,
Please recognize S&A logo when you purchase S&A water chillers.

Description

S&A CW-3000 series thermolysis type water cooler has compact design,with energy saving,high cost performance,good protection and alarm system.
This Water Chiller has been sold largely to Europe, South America, Asia and other markets;
Economic cooling equipment, easy to install and operate, compact and easily movable.
Remarks:
cw3000
water chillers are equipped high speed fans inside, NOT able to control the water temperature. Please confirm before place an order. The products are nonrefundable after selling, only if quality issue.
Used for:
It is designed for cooling the one CO2 glass laser tube under 80W of the laser engraving and cutting machine. (Its emitting rate is lower than 60%, you can choose
CW5000 water Chiller
if you want the emitting rate higher than 60 %.)
Features:
Specific disconnection alarm securing protection;
High cost performance, low failure rate;
Radiating Capacity is 50W / ℃;
Forces circulation, 9L cooling tank capacity;
It can extend the using life of laser tube and ensure the engraving effect better.
Comprehensive reference to the international radiator - type cooling system;
Small thermolysis water cooler;
With completed water flow and over high temperature alarm functions;
Professional forced air - cooled radiator;
CW-3000 Laser Water Chiller is suitable for small water cooling device;
Provide stable working conditions for laser devices;
High heat dissipating capacity and not easy to be blocked.
SPECIFICATION

| Model | CW-3000TG |
| --- | --- |
| Voltage | AC 1P 220V |
| Frequency | 50/60Hz |
| Current | 0.45A |
| Machine power | 0.10KW |
| Radiating capacity | 50W/℃ |
| Max.lift | 10M |
| Max.flow | 10L/min |
| N.W | 9.5Kgs |
| G.W | 12Kgs |
| Protection | flow alarm |
| Tank capacity | 9 L |
| Inlet and outlet | OD 10mm barbed connector |
| Dimension | 49X27X38 cm (L X W X H) |
| Package dimension | 59X39X48 cm (L X W X H) |
CONTOUR AND PARTS INTRODUCTION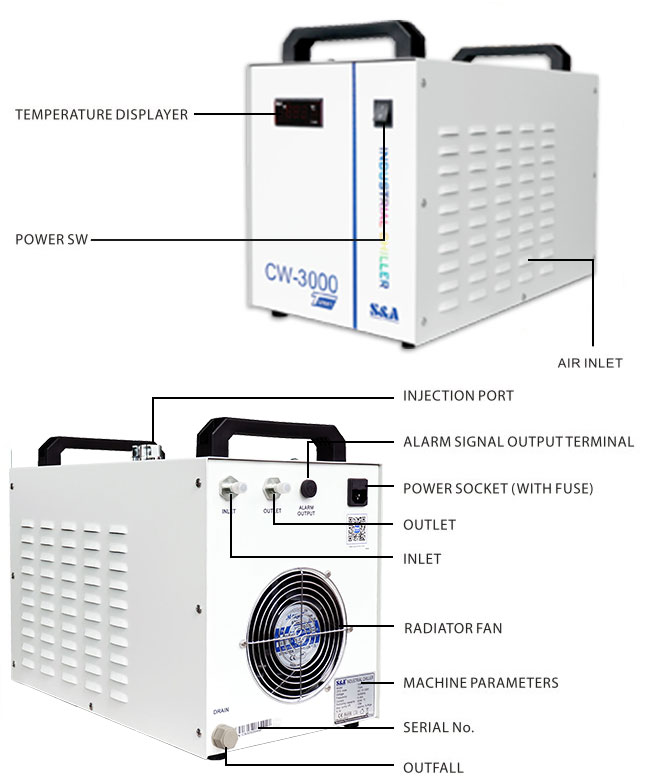 Independent production of sheet metal and heat exchanger . 9L cooling tank, fast cooling.

Adopt IPG fiber laser for welding and cutting sheet metal, adopt minimize risks of water and refrigerant leakage and improve quality

Ease of moving and water filling.
The firm handle can help move the water chillers easily.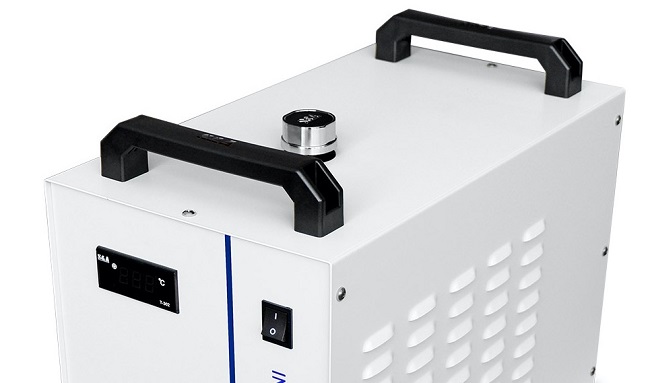 Inlet and outlet connector equipped. Multiple alarm protection.
The laser will stop working once it receives alarm signal from the water chiller for protection purpose.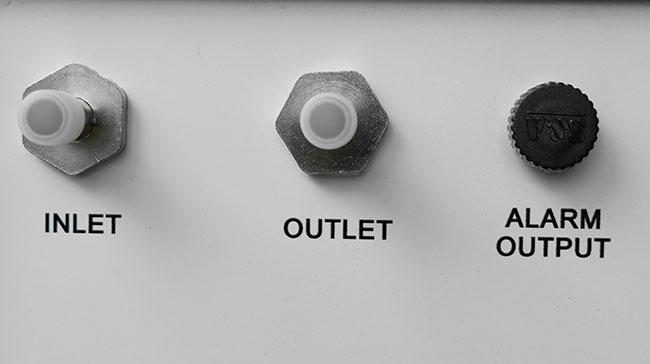 High speed fan of famous brand installed.
Adopt SAN JU brand from Taiwan with quality assurance and low failure rate.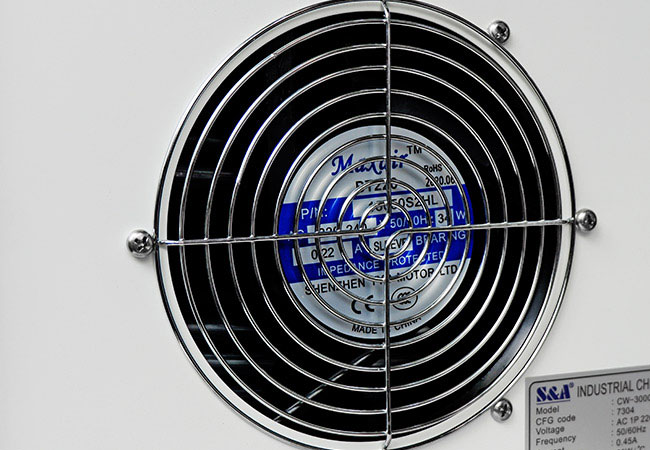 Easy water draining
It is suggested to replace the cooling water(distilled water or purified water as cooling water) every 3 to 6 months.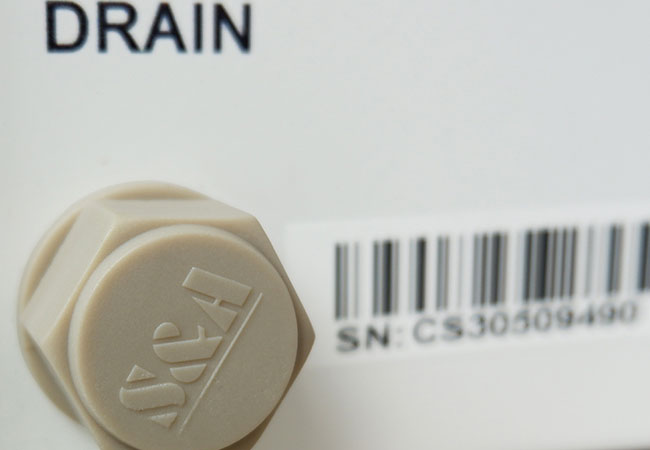 Connection diagram between water chiller and laser machine
Water outlet of the water tank connects to water inlet of the laser machine while water inlet of the water tank connects to water outlet of the laser machine. Aviation connector of the water tank connects to the aviation connector of the laser machine.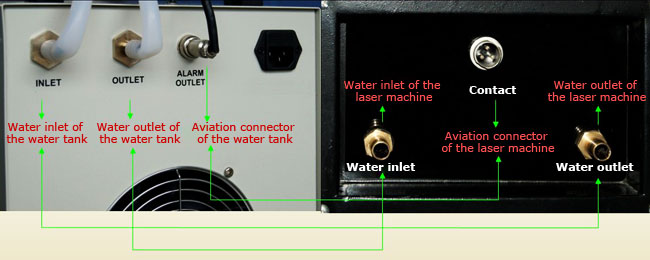 FLOW ALARM AND OUTPUT PORTS
In order to guarantee the equipment will not be damaged while cooling water circulation is out of control, CW-3000series water cooler possess a low flow alarm protection.
(1) Flow alarm output ports and the wiring diagram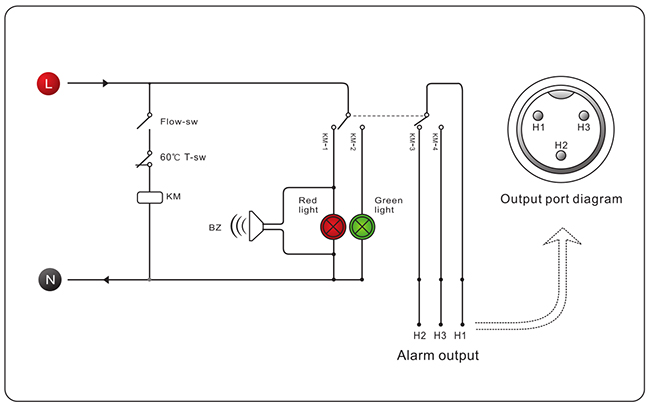 (2) ALARM DESCRIPTION
Causes of the cooling water circulation alarm and the working condition table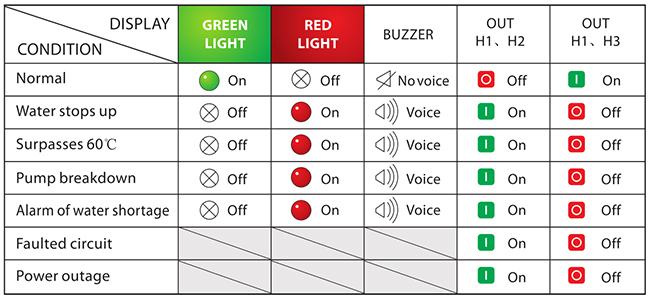 Note: The flow alarm is connected to the normally open relay and normally closed relay contacts, requiring operating current less than 5A, working voltage less than 300V.
MAINTENANCE

Method of exchanging water in the water tank and the exchanging frequency
Method of exchanging water in the water tank
Drain the waste water out of the water tank through the drain outlet and fill the clean water into the tank through the filling hole

Exchanging Frequency
The purified water should be exchanged once a month and the running water should be exchange twice a month. The quality of the circulating water will directly influence the service life the laser tube.It is recommended to use purified water.
Application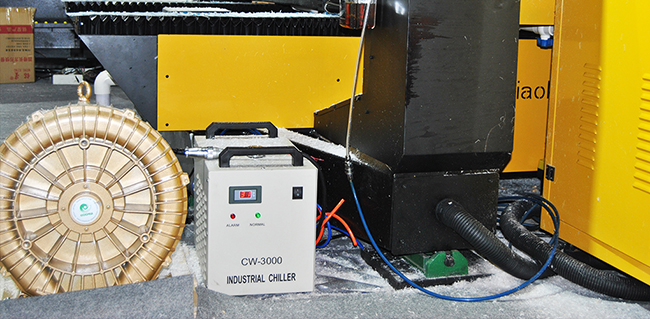 S&A CW-3000 chiller for 3KW CNC spindle machine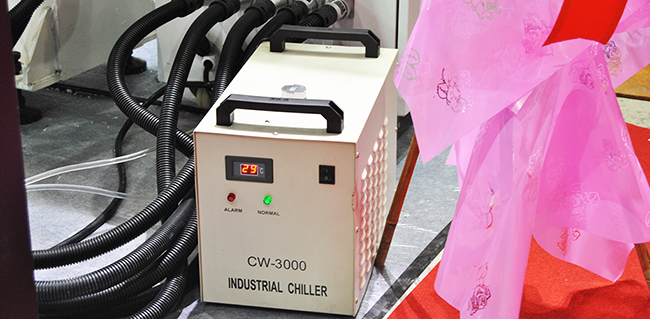 S&A CW-3000 water cooler for 60W co2 laser machine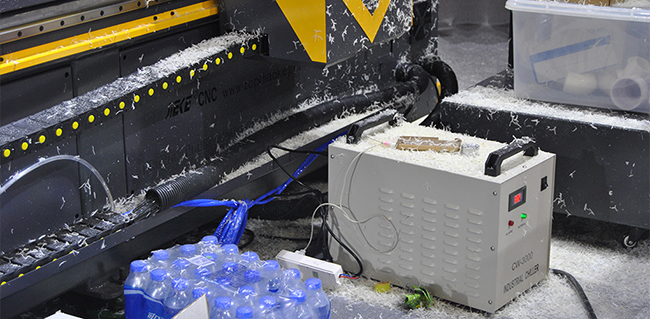 S&A CW-3000 chiller for dual 1.5KW engraving machine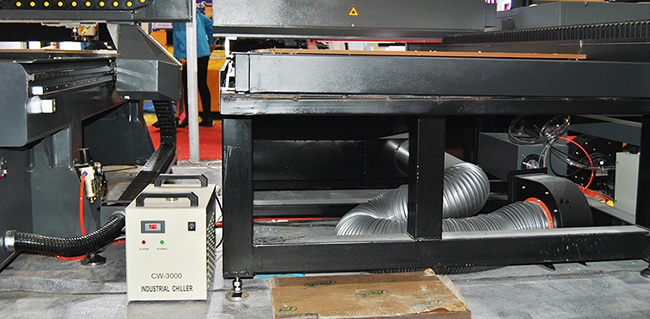 S&A CW-3000 chiller for 80W co2 laser cutting machine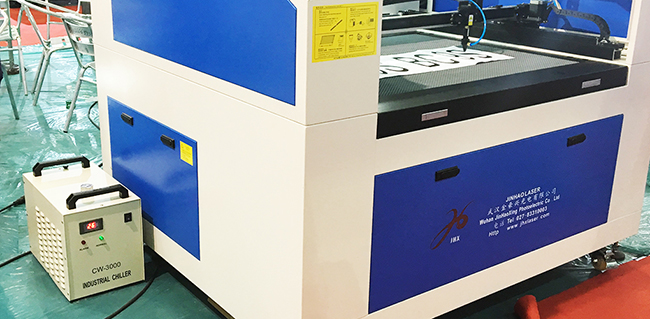 S&A CW-3000 chiller for acrylic laser cutting machine
Certificate

With 11 patent certificates and won Quality integrity Level A certificate; ISO 9001, CE, RoHS and REACH environmental certificated. Conforms to air transport requirements, energy saving and environment friendly.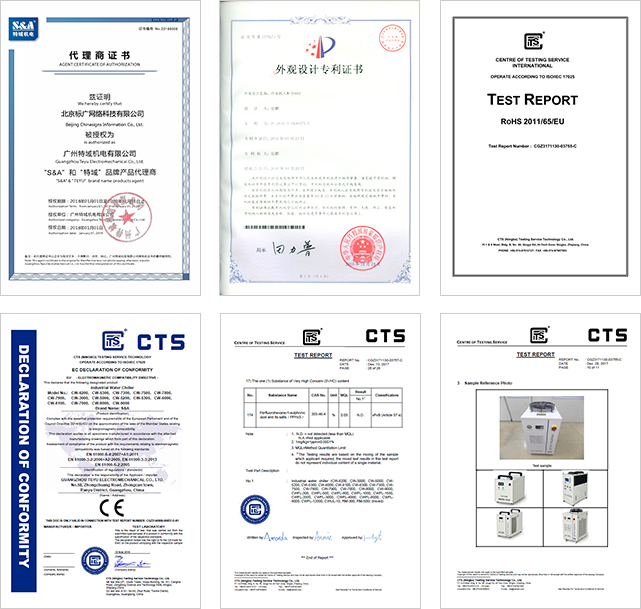 Warehouse

18,000 square meters brand new industrial refrigeration system research center and production base ,Strictly execute ISO production management system, using mass modularized standard produces, and standard parts rate up to 80% which are the source of quality stability.
Annual production capacity of 60,000 units, focus on large, medium and small power chiller production and manufacture.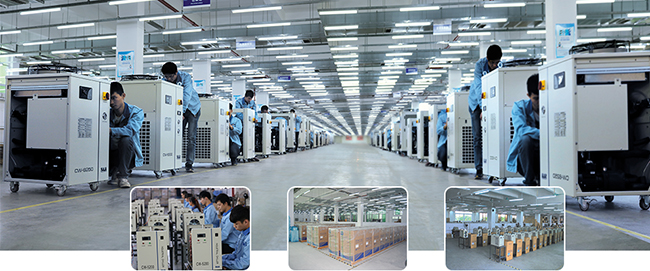 Test System

With excellent laboratory testing system, simulates actual working environment for chiller. Overall performance testing before delivery: aging test and complete performance test must be executed on each finished chiller.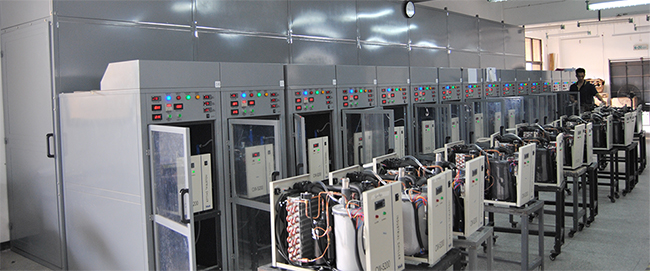 Packing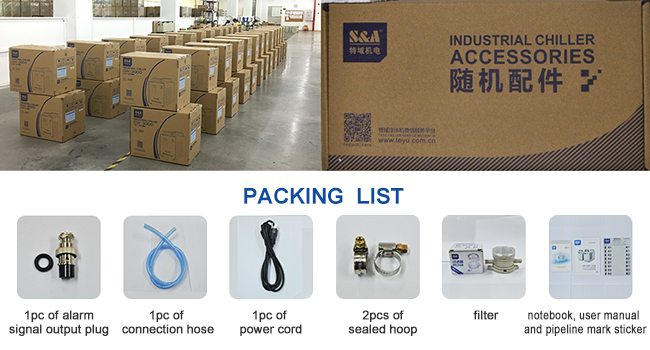 Installation

It is very simple to install this industrial cooling machine. The first time installation of the new machine can be carried out by following steps.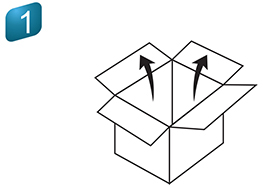 Open the package to check if the machine is intact and all the necessary Accessories are completed.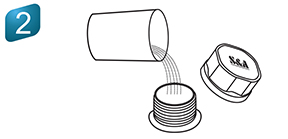 Open the injection port to feed cooling water. (Do not let the water spill over!)
According to system conditions, please connect the water inlet and outlet pipe well.

Plug in power, turn on the power switch. (Do not start up without water in the water tank!)
(1) Power switch turned on, the circulation pump of the chiller starts working. The first time of operating may cause more bubbles in the pipe leading to a flow alarming occasionally, but running for a few minutes later, it will go back to normal.
(2) After the first boot, you must immediately check whether the water pipe leaks.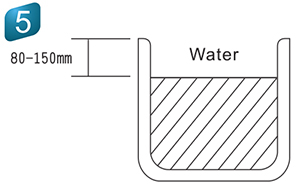 Check the water level of the water tank again. (It should be 80-150cm from the surface of water to the injection port)
Cautions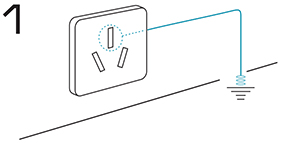 Please ensure that the power supply and electrical outlet are in good contact and the earth wire must be firmly grounded!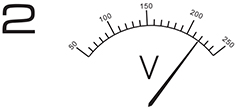 Please make sure there is stable and normal voltage for the working chiller!
As the refrigeration compressor is more sensitive to the power supply and voltage, so the operating voltage of our standard product is of 210 ~ 240V (110V model is of 100 ~120V). If you do need a wider operating voltage range, customization is available for us.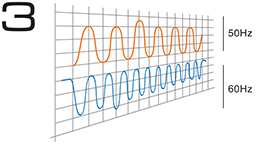 Unmatched power frequency can cause the chiller damage!
Please choose model of 50Hz or 60Hz according to actual circumstance.

To protect the pump, it's strictly forbidden to run the chiller without water in the storage water tank!
The new machine is packed after draining whole water in the tank, so please make sure the tank has water inside before machine starting, otherwise it's easily to have the pump damaged.
To drain through circulating pump is strictly prohibited!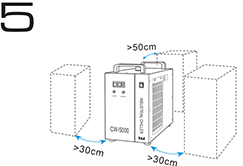 Please be sure that the air inlet and air outlet are in good ventilation!
There must be at least 30cm from obstructions to the air outlet which is in the back of the cooler, and should leave at least 8cm between obstructions and the side air inlet.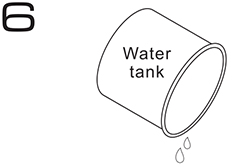 The cooling water must be drained if the cooler is out of use for long time or before being transported.

To protect laser heating devices , the radiator fan of cooler will suspend to work when water temperature is lower ( about 10℃ ) , and it will restart to run when water temperature rises to higher ( about 20 ℃).
Troubleshooting

Failure
Failure Cause
Approach
Machine turned on but unelectrified
Power cord is not plugged in place
fuse burnt-out
Plug the power cord in place
Replace the fuse inside the power interface which is in the back of machine
Flow alarm (panel red light) with water pipe directly connect to the outlet, inlet, there is no water flow
Water level in the storage water tank is too low
Feed water and check the pipe leakage
When used with the device, flow alarm (panel red light), but a direct connection with the pipe outlet and inlet, there is water flowing but not alarming
Blockage in circulating water pipeline
Check circulating water pipeline
Ultra-high temperature
Chiller of poor ventilation
Excessive heat load
To improve the ventilation
Reduce the heat load or to use other models
A normal boot, but the fan does not work
The water temperature below 20 degrees
A normal phenomenon, no processing
Switch on with alarming after adding water or changing water
Water drop in electric circuit
Damaged pumps dry transfer
Natural drying or drying off cap
To replace or repair water pumps,prohibited anhydrous boot
Slow outfall drainage
The injection port is not open
Open the injection port