• The end of the magazine can be used to remove the nails.
• A nail consumption indicator is designed at the bottom of noise.
• Light weight and well balanced for easy operating.
• Made of high quality stainless steel, durable for being used for a long time.
• Ergonomic design, comfortable and easy to operate by just one hand.
• Can use it with less force, but it will give you more power.
• Executes every task quickly, neatly and professionally.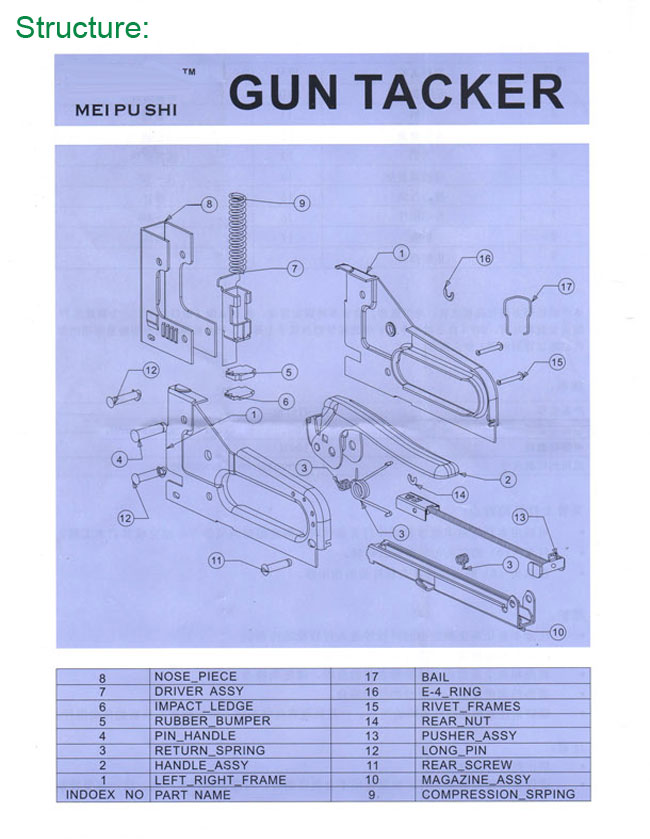 Maintenance:
• Be careful not to let the dust and small debris get into the internal of the staple gun tacker.
• All the rotating and moving parts should be lubricated.
• Dirty oil and the dust is the source of failure, so please check regularly.
• Proper lubrication can extend the lifespan.

Note:
• Do not point your rifle at people.
• Please use the right nails in order to avoid damage.

This staple gun is used extensively by building contractors, home DIY'ers and specialty trade applicators for re-covering furniture, decorating, applying fabric to walls or wood, ceiling tile, window screening, upholstering, carpet padding, fence wire, metal lath, cornerite, and many other jobs ranging from light to heavy duty work.