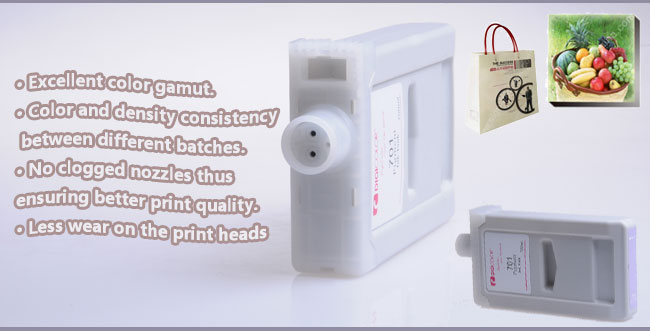 Description:
• Water-based pigment cartridge ink, especially designed for Canon iPF8000/8100/9000/9100/8000s/9000s series printers.
• The new-added of red, blue and green will provide you the widest color gamut.
• The additional gray and photo gray will smooth graduations and less graininess, creating a crisp monotone output.
• Wide media compatibility.

Characteristics:
Canon701 700ML Compatible Dye Cartridge(IC chip include)IC chip in cartridge; C,M,Y,K ,PC,PM,R,G,B,GY,PGY,MK12 colors.
• Excellent color gamut.
• Color and density consistency between different batches.
• No clogged nozzles thus ensuring better print quality.
• Less wear on the print heads.

Warm tips:
Please clean ink system and heads all-round before you change our compatible ink, or it will be blocked up. We will not assume such responsibility.




Suitable for Canon iPF8000/8100/9000/9100/8000s/9000s.