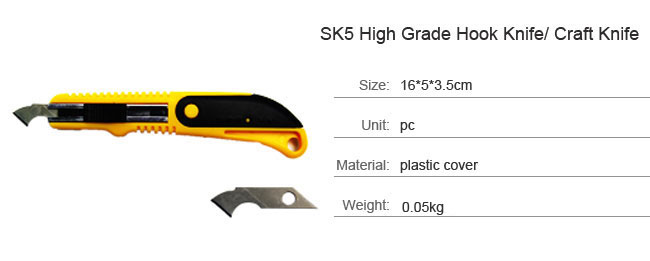 Description:
• Handle material: Plastic.
• Blade material: steel.
• Blade setter with auto-lock function to ensure safe.
• High quality blades used; Easy to replace the blade.
• Safety lock system achieves more safe application and low fatigue in use.
• Hook shaped cutting blade is designed to scrape plastic surfaces to reach enough depth to snap apart.
• Blade made from high quality tool steel for higher abrasion resistance and produced through multiple stages of precise process to obtain the ultimate sharpness and optimum edge-retention.
• The blade can be retracted into the holder after use.
Applicable to:
Convenient plastic cutting tool is mostly used for cutting plexiglass or plastic materials, such as acrylic. However, the simple design makes it easy for personal DIY projects as well.