Description:
1. The back paper:Blue color chart
2. High quality and Strentch, good hand feeling
3. You can draw with any pen or any printers. Also can be used on Laser printers.
4. Compatible Ink: Dye ink, Pigment Ink
5. Printers compatible: EPSON, Canon, HP, Small Desk Printers, large format waterbased printer and any oil pens or crayons. Or laser printers: KONICA MINOLTA, OKI...
Use the inkjet printer printing, the image color surface is matt, after heating the color will brighter.
6. This Transfer Paper is recommended with crayons, oil pastels, fluorescent markers, color pencil and inkjet/laser printers for any color cotton or cotton/ polyester blend fabrics, T-shirts, canvas bags, aprons, gift bags, wool garment, mouse pads, on quilts etc. And can be applied with a heat press machine or regular householdiron.
7. Strong absorption of the ink, the surface of printing color image is grey, after heating,
the image will brighter, washing time above 120times
8. Use the Cutting Plotter cutting the paper coating side, remove the white edge, peel off the image you need by hand or use the transfer film transfer
9. Available Size: A4/A, A3/B, 0.42 x 30M

Transferring Instructions:
1. Printing Mode: Quality setting--Picture,kind:High quality matte paper or high quality photo paper, high quality glossy paper
2. a)Heat press temperature and time: 170°C/338F, 25-30seconds b)Household Iron on: Setting Cotton, Use not less than 25KG pressure move slowly, heating about 1 minute. Caution: please don't open the steam button.
3. Pressure: Medium Pressure
4. Peel off the printing image you need and put image facing up on the textile. It is better to put one piece white cloth on the greaseproof paper or transfer film when transferring, the image color will more brighter
5. Hot/cold Peel after heat press

The steps are as follows: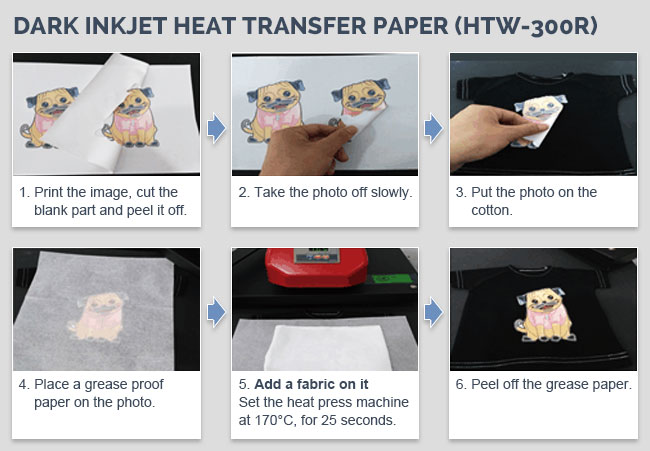 Packages:
Package: plastic parcel(100pcs/parcel)
Packing size(L x W x H): 13.8"x9.8"x1.6" (350x250x40mm)
Type: A4, 21cm x 29.7cm (8.3" x 11.7")
Qty/Parcel: 100pcs
G.W: 3.5lb (1.6kg)/parcel
N.W: 2.9lb (1.3kg)/parcel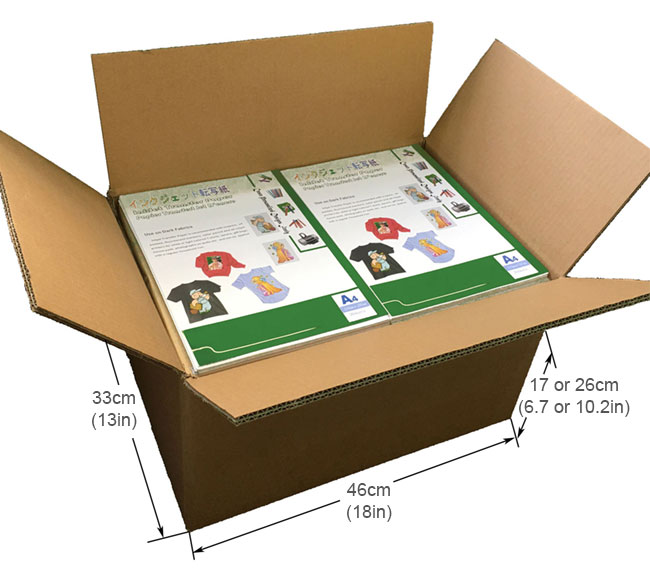 How To Care For Your Printed Fabric (Washing Instructions):
Wash inside out in COLD WATER. DO NOT USE BLEACH. Place into the dryer or do hang to dry immediately. Please do not stretch the image transferred or the T-shirt as this may cause cracking to occur. If cracking or wrinkling does occur, please place a sheet of greasy proof paper over the transfer and heat press or iron for a few seconds making sure to press firmly over the entire transfer again.
Please do remember not iron directly on the image surface.

Finishing Recommendations:
Material Handling & Storage: Conditions of 35-65% Relative Humidity and at a temperature of 10-30°C.
Storage of open packages: When an open package of media is not being used remove the roll or sheets from the printer cover the roll or sheets with a plastic bag to protect it from contaminants.
If you are storing it on end, use an end plug and tape down the edge to prevent damage to the edge of the roll, do not lay sharp or heavy objects on unprotected rolls and do not stack them.